Never underestimate the importance of member retention for gyms and fitness clubs. If you can keep members coming back for longer, you'll see consistent and reliable income. And ultimately increase the profitability of your business.
It's all too easy to get distracted by member acquisition. And signing up new members is important when growing your gym business. Want to achieve long-term success and increase profitability? Investing attention into member retention is essential.
The longer members stay with your gym, the more revenue you'll earn from them. So, you'll see a higher member life time value (LTV). And reduce the need to constantly sign up new members which can be costly.
In this article we'll explore the importance of member retention. And give you practical ways to grow gym member retention across your business.
Let's get stuck in!
Insights & strategies to increase retention

The Winning The War On Attrition report features exclusive insights from across the UK fitness industry. Plus, expert tips and tricks to help you cut attrition and grow retention.
Why is member retention important in the fitness industry?
As a fitness business owner, it's important to focus on member retention. When members stay with you for longer, they'll see consistent results. And you'll see consistent income!
According to the Leisure DB State of the Fitness Industry Report 2023, there are now 4,460 private gyms and fitness clubs in the UK. That's up from 4,456 in 2022. And means the number has grown by just 0.1%.
It's clear that competition in fierce. Especially as 83.4% of the UK population live within 2 miles of a private club. So, it's never been more important to set aside time to focus on gym member retention.
Signing up a new member can be anywhere from 5 to 25 times more expensive than retaining an existing one. And if you can increase retention rates by 5%, profits could increase by 25-95%.
So, if you reduce the number of members leaving (attrition) and increase the amount of time members stay (retention), you'll increase member LTV. And reduce the need to spend significant amounts on attracting new members.
Plus, members who stay with you for longer and make use of their membership, are more likely to see the benefits of consistently working towards their fitness goals. So, you'll have more happy members ready to take part in your gym member referral programme and promote your club for you!
What is the key to member retention?
Short answer, visits. The key to member retention for gyms is visits. Why? Members who visit regularly will stay with your gym for longer.
How often should a member visit? According to data from PureGym, 76% of gymgoers in the UK visit 2 or more times a week. In reality, there's no magic answer to the ideal number of visits a member needs to make.
For those new to working out, 1 visit a week is enough to start building a habit. For others, 2-3 visits a week will be achievable. Building an achievable habit is essential and that will be different for every member.
Keep cheering members on to make that next visit. An easy starting point is adding celebratory email messages to your onboarding journey. Send these members hit key visit milestones.
How can you positively influence member retention?
The importance of member retention for gyms and fitness clubs is clear. If you pay attention to length of stay and membership metrics, as well as tracking visits. Then you'll have the info needed to influence member retention.
Tracking length of stay and membership
Members who visit regularly will stay with you for longer. Keep members motivated and engaged. And you'll increase length of stay and length of membership for your fitness business:
Length of stay = the time between a member joining and their last visit
Length of membership = time between a member joining and cancelling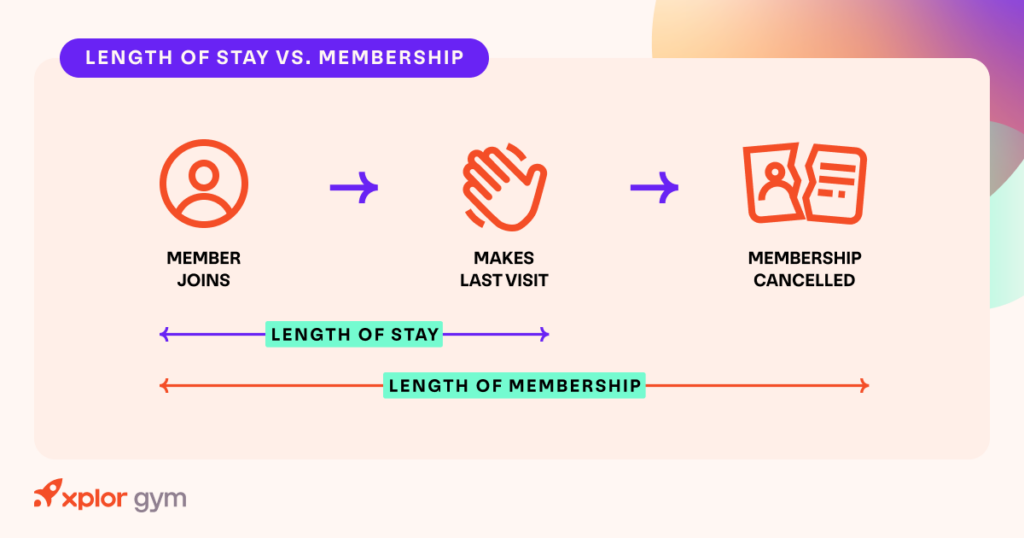 In the UK, the average length of stay for members who cancel is 21 months. And average length of membership is 26 months. So, members typically cancel 5 months after their last visit.*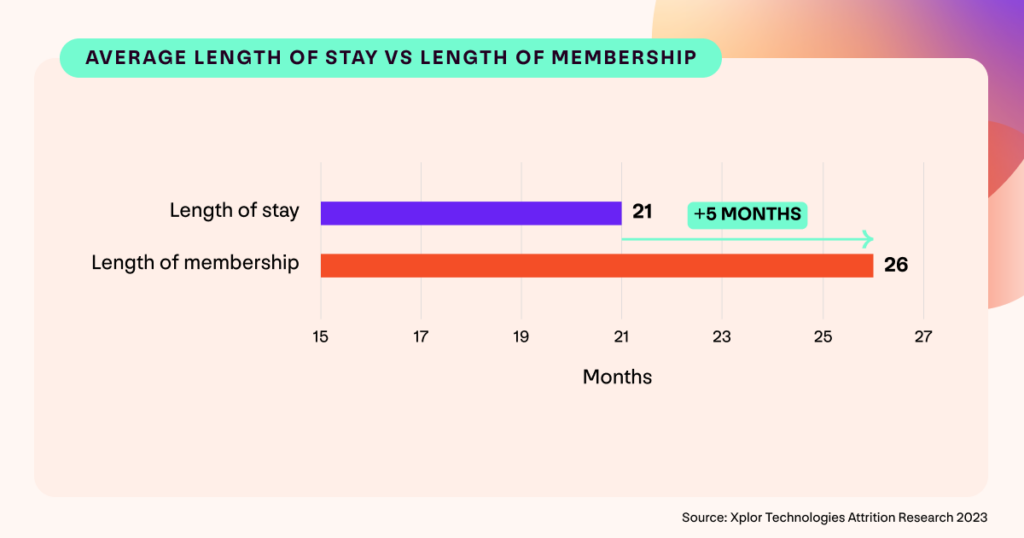 Tracking visits
When a member stops visiting, it's likely that they'll cancel over the coming weeks and months. Intervene and win back these at risk members. And you'll see attrition drop and retention soar.
Accurate visit data is essential to re-engaging members who've stopped visiting. Yet, 18% of current and cancelled members have no last visit date recorded.
And more former members have no last visit date compared to current ones:
20% of cancelled members have no last visit date recorded
15% of current members have no last visit date recorded
Without visit data it's easier to lose members. It's impossible to see when a member has stopped visiting.
How to increase the accuracy and completeness of your visit data
Make it easy for members to check-in and use access control equipment that integrates with your gym software
Educate all your team on the importance of visit tracking and how it helps you increase retention (and so revenue)
Choose gym management software with gym retention features. Visit habits for each individual member should be automatically identified. And any changes highlighted, so you can choose to take action as visit patterns change
Reward members in return for their loyalty using visit data for tracking. That could mean creating goals and rewarding members who hit them. For example, bring a friend when you reach 25 visits, or get an exclusive t-shirt when you hit 150 visits
"Members were forced to record or book every visit as we came out of lockdown. This provided very rich visit data, which had previously not always been that accurate. As restrictions have been relaxed, so has visit tracking at many clubs.

Although visit tracking has improved in general, there is still room to tighten up visit data further.

This comes down to education of staff and members to the benefits of checking in every visit (retention, rewards, tailoring the journey, service, products, etc.).

Most people are quite happy to let their supermarket know what they're buying each week, or how often they're ordering a coffee and what with. The gym experience should be just the same, with appropriate rewards (e.g., everyone loves a t-shirt!)."

Guy Griffiths, GGFit
11 strategies to increase gym member retention
How can you increase member retention for your gym business? Follow these 11 member retention strategies to boost gym member loyalty and profitability:
1. Elevate your onboarding process
Research suggests that as many as 63% of new fitness members stop attending within 3 months of joining.
The percentage may look different for your business. Yet, this stat shows that helping new members get into the habit of visiting when joining is vital.
Review your gym member onboarding process. Take new members on the optimal journey with you.
Look at the type of induction session (or sessions) you offer. And how you can make use of automated emails and SMS messages sent at the optimal time for each member.
Your goal should be to help members get on track to achieve their goals and build the habit of visiting regularly.
Looking for inspiration? Get your free copy of the Successful New Gym Member Onboarding Playbook for a guide of what to send and when. Plus 20+ ready-to-use message templates.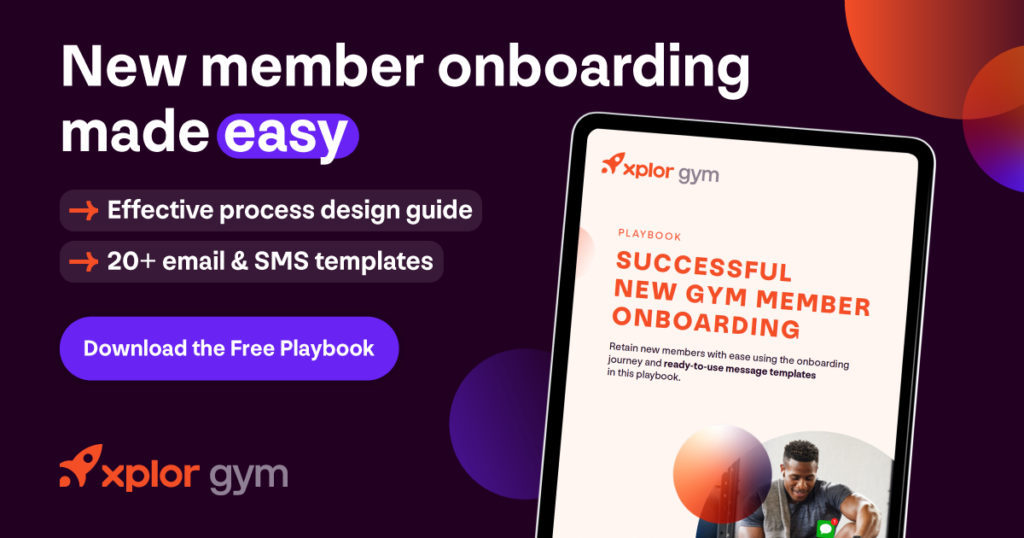 2. Seek out & act on feedback
Never underestimate the impact that gym member feedback can have on member retention.
Starting early in your onboarding journey, create a feedback-focused culture. Encourage and welcome feedback, making it everyone's role to seek it out.
When members provide feedback, show you've listened. Have empathy. Show the action you're taking. And where you can't make a request happen, get in touch with the member and show you've heard. Publicly sharing feedback (and what you've done as a result) helps you make time for it. And shows members that providing feedback is worthwhile.
Remember to celebrate good feedback. So, you'll understand what's going well, just as much as seeing where to make improvements.
"Call out where individual team members receive praise from members. When a team member is mentioned positively, team morale is boosted.

And it helps create positive change amongst the team. Others will seek and enjoy individualised feedback."

Julie Allen, Active Insight
3. Reward members for visiting
Everyone likes to be rewarded! And increasingly we're used to being rewarded. For loyalty at supermarkets and high street shops. For hitting fitness goals using smartwatches. For meeting targets at work. The list goes on!
Having a reward programme that's tied to visits can help encourage members to stay in the habit of working out. Ideas include:
Sending a celebratory email when a member achieves a visit milestone (e.g. 100 visits)
Giving prizes for reaching visit milestones (e.g., a water bottle for 25 visits, a towel for 100 visits, an exclusive t-shirt for 250 visits, etc.)
Calling out members as they reach visit milestones and reach their goals via your social media channels
4. Help members set & track progress towards SMART goals
Many gyms help members set goals during their induction and onboarding sessions. Go beyond this. Help members track progress and revisit goals throughout their life with you.
Make sure goals are SMART – specific, measurable, achievable, relevant and time-bound. It should be easy for members to record and track progress using your gym member app. And even offer programmes and workouts tailored to goals via your app.
5. Hire & hold on to the right team
As you hire gym staff, you have the ability to positively impact member retention at your gym. Attract, keep, and motivate the right people across your business. And you'll be better placed to create lasting connections with members too.
Research from IHRSA and The Retention People (TRP) showcased the impact that staff can have on members and retention:
90% of club members value communication from staff members
Every 2 interactions fitness staff have with a member in a month results in 1 extra visit the next month
Those classified as promoters in NPS surveys frequently mention staff in responses
6. Offer personal training (PT) & programmes
Working with a personal trainer can increase how often a member visits, influence progress, and improve retention.
In a study, TRP found that members who had 4+ PT sessions in the last 3 months:
Visited the gym more often (83.5% visited 1+ times a week vs. 72.3% of those who had no PT sessions)
Reported more progress toward fitness and weight loss goals, making new friends and visiting as frequently as planned compared to those who had no PT sessions
Cancel at a lower rate (15.2% cancellation rate per 1,000 members per month vs. 21.4% for those who had no PT sessions)
Help your personal trainers to effectively coach members with the right tools to increase retention.
Your gym management software should let trainers set goals with members, create custom workouts and programmes, communicate with members, and see member progress. Even let members request workouts and programmes from trainers.
7. Encourage members to socialise
In a world where people are working remotely and socialising online, visiting the gym helps members meet new people IRL. If members feel part of a community, they are less likely to quit the gym.
Look for ways that you can encourage members to interact and get to know each other.
Group exercise is a great place to start. Why? Because group exercisers who visit once a week are 20% more likely to be loyal members than those who visit 3 times a week and only workout on the gym floor.
Other ideas to create community at your gym and make it a social place to be a part of include:
Events like quizzes and DJ nights
Fitness challenges
Refer a friend promotions
Free guest passes
8.Review membership types and pricing
While our attrition research found that 3.6% of cancellations are for cost or financial reasons, it's worth regularly reviewing your gym contracts and gym pricing strategy.
Have the right options available, and let members switch packages, to reduce cancellations. Make sure you are competitive. And that members understand the value a membership holds.
If cost is an issue for a member:
Suggest a value package that might suit their needs based on usage patterns (e.g., if their membership includes classes that they don't use, suggest a gym-only membership)
Let your members choose which perks they want with a basic gym-only option. Add bolt-on extras for classes, personal training sessions, coffees or shakes from your café, etc.
Supply a promotional offer for a fixed period
Offer a temporary freeze, free of cost in certain circumstances (staying in regular contact to keep top of mind and prepare them for returning)
Rolling monthly memberships and casual pay-as-you-go access can help you win members who don't want to or can't commit to a longer term contract.
"A freeze or suspension may be an option for members who aren't visiting right now, especially if injured or finding it difficult to visit.

Limiting the freeze term and communicating constantly during a freeze (encouraging an early return and maintaining engagement) is critical to get members back after a freeze, otherwise, you're just delaying the cancellation."

Guy Griffiths, GGFit
9. Mix up your offering
Variety is the spice of life! That's especially true when it comes to working out. If you can regularly change and add to your offering, you'll keep members engaged and motivated.
Offer new classes. Add small group PT training. Invest in new equipment. So, members know they'll find something new and exciting to try at your gym.
Your gym member mobile app can help you engage members with workouts and programmes. Create fully or partially customised workouts and programmes. And then choose to let members pick the ones that suit their goals and needs.
10. Stay in touch with personalised communications
Gym email marketing can help you capture member attention, even when they are not with you in person.
Look to focus on providing real value with emails that are timely and relevant to each member. This will encourage members to keep opening and interacting.
Relevance is about showing that you understand each member. Use the data within your gym CRM to segment your members into groups with common interests and characteristics. And to personalise the messages you send.
Your gym marketing software should make it easy to create, send and schedule marketing emails. Personalise these messages for emails that resonate and drive retention.
11. Identify and re-engage at-risk members
The Winning The War On Attrition report found that 31% of current gym members in the UK are sleeping. That means they've not visited in the last 30 days.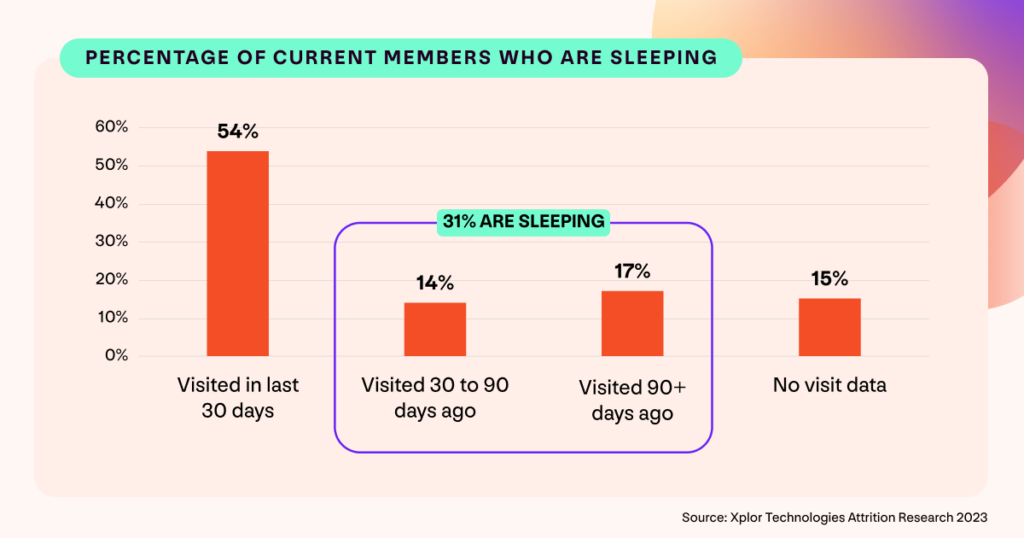 To increase retention, keep the number of sleepers as low as possible. That means intervening before it's too late. There are many ways you can cheer members on and support them back into the habit of working out.
It starts with choosing a software solution, like Xplor Gym. One that makes it easy to see when a member's visit habits change and they become at-risk of cancelling. Then choose the right approach to re-engage high risk gym members before it's too late.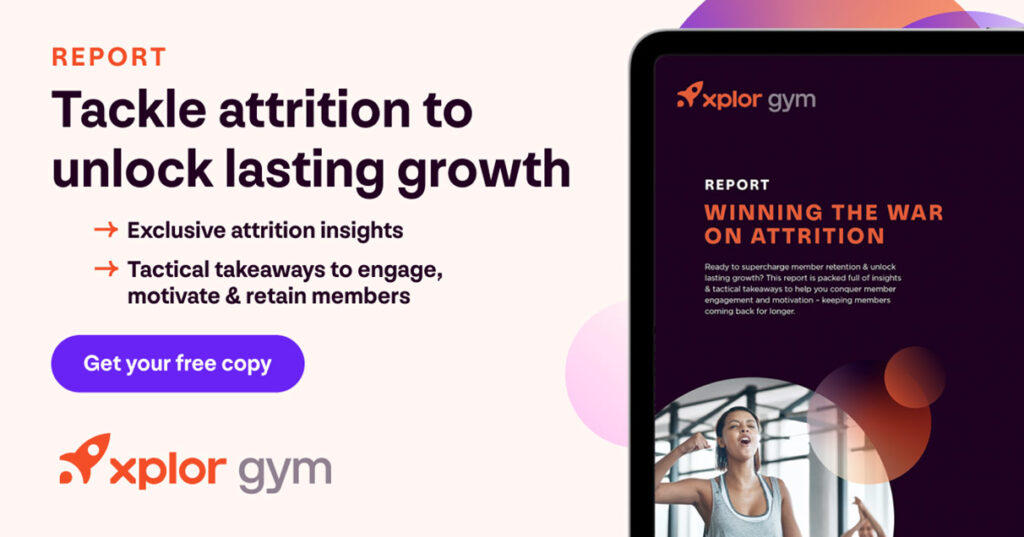 The wrap up…
The importance of member retention for gyms is clear. If you can keep more members for longer you'll increase member LTV. And that will allow your gym business to become more profitable.
Visits are key to increasing gym member retention. Help members build (and stick to the habit) of visiting on a regular basis. So, they are more likely to stay with your club. Focus on an achievable number of visits – even if that's once a week for some members.
Want to increase retention? Start by tracking visits and pay attention to length of stay and membership. Use the strategies we outlined in this article to positively influence retention.
Get more insights and expert tips to help you increase retention. Claim your free copy of the Winning The War On Attrition report.
* About the research:
The attrition insights featured in this article and the Winning The War On Attrition report are based on Xplor data from 714,674 gym, health club and leisure members paying by Direct Debit in the UK & Ireland.
As well as current members, it includes data on members who held a membership that's been cancelled between January 2017 and April 2023.
The data was collected in May 2023.
Article by Xplor Gym
First published: 30 October 2023
Last updated: 06 November 2023