If you want to increase retention, it's essential to have an effective strategy for re-engaging high-risk gym members who may cancel soon. Routinely identify members at-risk of cancelling and use the tactics in this article to create a powerful re-engagement strategy.
Attracting a new member can be 5 to 25 times more expensive than retaining an existing one.
And an overreliance on acquiring new members makes it tougher to become profitable compared to investing in retaining more members. Research shows that increasing retention rates by 5% can result in profits increasing by 25% to 95%.
So, it's important to focus on reducing attrition and increasing retention. By doing this you'll increase member life time value (LTV). And that can help you boost profitability.
When you're looking for ways to decrease attrition and increase retention, identifying high-risk members and targeting them with an effective re-engagement strategy is vital.
What is a high-risk gym member?
A high-risk gym member is at risk of leaving or cancelling their membership with your club soon. These members may also be referred to as 'at risk'.
Some members may tell you or your team directly that they are considering cancelling. Others will not. These are behaviours to look out for when identifying high-risk members:
Visiting less often – one of the highest-risk groups are those who've not attended for over a week but have attended in the last two weeks (and normally attend at least weekly)
Unsubscribing or not opening emails from your gym
Direct Debit rejected – if a payment fails a member is more likely to cancel due to financial reasons (40% of cancellations happen after a Direct Debit payment fails or is cancelled at a member's bank)
Leaving negative reviews in public forums (like social media)
Other indications that a member could be at risk of cancelling include:
It's vital to have a multifaceted approach to identifying and re-engaging high-risk gym members who may cancel soon.
Using visit data to identify high-risk members
When you're looking to identify members at-risk of cancelling soon, the visit data within your gym CRM is an ideal starting place. Members who visit regularly are at lower risk of cancelling.
Make sure you are tracking visits using your access control technology and gym software. Accurate visit data will put you in the best possible position to re-engage members when they stop visiting.
The retention features in your gym management software should make it easy to identify members who are at risk of cancelling.
Xplor Gym includes a powerful algorithm that automatically identifies when a member's visit habits change. So, you can act fast. Plus, it's easy to see how many members are at risk, sleeping, and active at a glance.
What is a re-engagement strategy?
A re-engagement strategy is used to reach out to members who are at risk of cancelling their membership with your fitness club. The goal is to re-ignite your relationship with them, so they feel heard and make use of their membership.
Best channels for re-engaging high-risk members
An effective strategy for re-engaging high-risk gym members will use multiple channels – including email, SMS, phone and in-person conversations – to win-back high-risk members.
Adjust what you say and the mix of channels you use to suit distinct groups of members. This will help you communicate more effectively and successfully re-engage at risk gym members.
Email
Email campaigns should be the cornerstone of your re-engagement approach. Use your gym software to find high-risk groups and send personalised email campaigns.
Include multiple emails in your campaign to increase open rates. Be mindful that frequent emails keep your company top of mind. Take care not to become intrusive.
SMS
Gartner research shows SMS open rates can be as high as 98% – with 45% responding. This compares to average open and response rates of 20% and 6% for email. Strategically sending SMS messages to at risk members will get attention and encourage re-engagement.
Telephone
Sometimes you need to pick up the phone. If a member has left negative feedback or unsubscribed from your emails you could jump straight to this step. An informal courtesy call to see how the member is getting on, hear any concerns and address these can bring to light what email and text messages can't.
"[Make] a courtesy call not a no visit call. You don't ring people and go 'you've not been in for a while what's up with you?' because they get defensive. It's called re-activism…

If we ask people why they haven't been in they often go 'well well well' and they justify it to themselves why they've not been in, while they are justifying it to us.

So you do a courtesy call, 'we're just reaching out to see how you're getting on'. If they say I've not been in you can have the conversation."

Dr Paul Bedford
In-person
If a member is still showing up in-person, make sure your fitness team gives them extra attention. Informal, non-sales focused conversations will help the member feel supported and part of your community. And highlight any challenges or help that the member needs.
10 strategies for re-engaging high-risk gym members & increasing retention
The best way to re-engage members is to keep high engagement throughout their journey with you. So, there's less opportunity for members to become high-risk.
1. Get onboarding right
Onboarding should be more than just a quick induction. Your gym member onboarding process is critical to the success of your fitness business. A carefully planned journey will help welcome and motivate new members.
Your onboarding journey should:
Help members set the right goals
Follow up on those goals
Give basic health and fitness education
Highlight your full offering
Encourage new members to bring a workout buddy
Segment and build your journey around key milestones to make your messages relevant – increasing engagement. Use your gym management software to automate email and SMS communications based on triggers. Send the right message at the right time.
Want to create an onboarding journey that sets members up for long-term success at your club? The Successful New Gym Member Onboarding Playbook has everything you need – including email and SMS templates covering 20+ key milestones.
It was created in collaboration with retention expert Guy Griffiths. And even has a template to re-engage new members who could fall out of their gym habit – get your free copy.
2. Automatically intervene at the right time
By tracking visits and monitoring visit habits, you can identify changes and see when members are at risk of cancelling.
Newer members (those who've been with you for less than a year), are most likely to leave.
47.6% of new gym members stay for less than 12 months. So, aim to intervene with this group before they hit 30 days of no visits. After 7 absent days, send a gentle 'we miss you' email that encourages them back and offers support.
Members who've been with you for more than a year are more likely to have formed solid workout habits. Your gym management software should automatically pick up with individual habits change.
As a basic rule, if members get to 30 days of no visits, then it's time to re-engage them. For those who typically visit very frequently, you could intervene earlier. The exact timing and approach will depend on your business, members, and resources.
"Use your visit data to recognise members at risk with reduced visits or no visits for 30 days.

Ignore them at your risk! Unchecked absentees are more likely to leave, so take action to try to get them back into your club, for a reactivation (induction), or other incentive."

Guy Griffiths, GGFit
3. Help members set goals and review results
Most members will join your gym with a specific goal in mind. Your onboarding process should help new members set achievable goals, track progress, and review and reset goals with a trainer.
Tip
The Successful New Gym Member Onboarding Playbook includes email templates you can use to help members effectively set goals and offer reviews with trainers to follow up on those goals.
Get your free copy
This support should extend beyond the onboarding period. Regularly help members track progress and set new goals. Members will feel supported and motivated to stick with you.
Offering at risk members, a personal training session paid for by your club will help them overhaul their workout programme and get back on track. Attach a value to this session, rather than making it free, you'll show how valuable it is and encourage take up.
For example, you could say 'Let us buy you a £50 personal training session to jumpstart your fitness routine.' Highlight the benefits of working with a personal trainer.
4. Keep your team engaged and close to members
Your gym staff can have the most impact on how engaged members are. Research shows fitness staff can generate as much as 600% more income per member than salespeople alone. The more often members interact with your gym staff, the more they will visit.
To stop members becoming high-risk, you need to keep your team engaged and motivated. Low staff turnover will aid member engagement – creating a sticky gym member experience.
Invest in your team with regular training to build a highly effective team. Help them communicate effectively with members, chatting with them each time they visit – both about fitness and small talk too. You'll help your team have meaningful interactions with members to build strong bonds.
Creating trust with your fitness team will give members confidence to raise any problems straightaway. So, you can address them before the member becomes high-risk.
Get your team involved in re-engaging high-risk gym members. For example, if a member visits after a period of inactivity they should gently approach them to understand more and offer help.
You could also promote your personal trainers and class instructors in re-engagement emails – focus on being helpful and informative rather than salesy.
"22% of consumers surveyed by Active Insight value staff availability and 10% value the reception team at their club."

Julie Allen, Active Insight
5. Don't neglect regular communications
Out of sight, out of mind. If you are not regularly communicating with your members, they are more likely to be at risk of cancelling.
Have members opt-in to receive your emails and use the marketing automation functionality of your gym management software to send out gym email marketing messages. Segment your members into groups so you can target them with relevant emails (e.g., by demographic, by frequency of visit, by workout preferences etc.).
Email gives you a direct route to members, so you stay top of mind. There are loads of reasons to email members on a regular basis (e.g., weekly, or fortnightly):
Ask for feedback
Timetable changes
New instructor or personal trainer profiles
Exclusive offers
Fitness education
The list goes on!
Track when members unsubscribe or stop opening your emails – signs that they are at risk of becoming high-risk. Reach out on a personal level to see if they need help or with an offer to tempt them back if they're not visiting regularly. Be mindful of each member's contact preferences.
Beyond email, be active on social media and other digital channels. Post regularly. Respond to comments and reviews. Answer questions. Acknowledge and take helpful action if your club is criticised. Show your appreciation for positive comments and reviews too.
"Lots of clubs don't ask for feedback because they fear negative comments, but this is not a good strategy. It's better to ask and therefore get those negative comments through your official channels, otherwise they may appear on online forums where you have less control or may not even be listening. Also, by asking, you'll get lots more positive feedback that you can share with your team and with other members and prospects."

Guy Griffiths, GGFit
6. Get to know your members personally
We've seen that members who interact regularly with your fitness team will visit more often. And therefore, are less likely to become at risk of cancelling.
The more you show your fitness business knows and notices each member on a personal level, the higher retention will be. You'll have more insights to inform your re-engagement approach too.
Build a stronger community for your club and relationships with your members by running regular social events. Try out different options. Post-class coffee mornings. Themed nights with a DJ-set in your gym. Comedy or quiz nights at a local venue. Think about what your members would like.
3.3 million people in Britain report that they feel lonely all the time (including around 1 million people aged 16-29). Making your club a social place to meet likeminded people and build friendships will help you build stronger connections with your members.
"24% of consumers surveyed by Active Insight value making friends at their club"

Julie Allen, Active Insight
7. Show your value
Especially when re-engaging high-risk members, it's important to focus on what the member wants. Asking for feedback and opinions from members – both via surveys and in-person – is the best way to understand what they really value.
Armed with this knowledge, show the value you deliver based on their wants and needs.
These are some of the ideas to help you show the value of your club to both at risk and engaged members:
Use your website and social media to provide extra value – share recipes, exercise technique tips, recovery guidance, self-care ideas and more
Share customer testimonials and success stories
Ask for feedback and show how you are actioning it
Show how you measure up to competitors in your area
Promote the investments you are making in your club – new equipment, refurbishments, extra classes – explain why your member should care
8. Promote group exercise options
Research shows members who go to at least 1 class a week are 20% more likely to be loyal members than those who work out in the gym 3 times a week.
Having a programme of group exercise options is a powerful tool to keep members motivated and engaged. Even if you don't have a dedicated studio space, running gym floor-based group exercise sessions can engage members.
Regularly promote your group exercise timetable, any new classes you've added, and the benefits of working out in a group.
Focus in on promoting your most popular classes and introducing more of those classes at peak times when they become oversubscribed. Your gym management software should offer dashboards that make it easy for you to find the most successful classes and timeslots.
Check out the Successful New Gym Member Onboarding Playbook for a group fitness email template that you can adapt and send out to at risk members.
9. Encourage workout buddies
Not all members will want to try out group exercise classes. Take advantage of the power of working out with someone else by making it easy to bring a friend.
Re-engage at risk members, especially those who work out alone, with guest passes and referral offers.
A free guest pass at the opportune time will encourage members to use their membership, while bringing a friend for a social experience. Reward at risk members who make use of a guest pass, with another pass for another friend.
Highlight your referral programme too (especially to those who've recently taken up a guest pass offer). Having a longer-term workout buddy can take the member out of at-risk status.
"Tell your new members that they'll stay longer, get faster results and have more fun if they work out with friends. When you ask for referrals, don't make it about the next sale, make it about the current member. They'll get to burn more calories, workout harder and longer, and get more accountability if they bring a gym buddy. Sure, you'll get the sale, but think about what the member gets from bringing a friend to the club."

Guy Griffiths, GGFit
10. Offer flexible options
Finally, now more than ever your members are seeking more flexibility in their membership. Regularly review your membership options to stay competitive and provide members with what they want (see Gym pricing strategy: a guide to membership pricing).
Ask members who are at risk of cancelling to see if their current package still works for them. This is particularly important where a Direct Debit has been rejected.
If cost is an issue:
Suggest a value package that might suit their needs based on usage patterns (e.g., if their membership includes classes that they don't use, suggest gym-only membership)
Let your members choose which perks they want with a basic gym-only option. Add bolt-on extras for classes, personal training sessions, coffees or shakes from your café, etc.
Supply a promotional offer for a fixed period
Offer a temporary freeze, free of cost in certain circumstances (staying in regular contact to keep top of mind and prepare frozen members for a return)
If they are worried about committing to a long-term deal:
Give the choice of a rolling monthly membership
Have a casual pay-as-you-go access option
Being flexible can help you win-back high-risk members over the long-term by supporting their short-term needs.
Engage members from the get-go
Having a strategy in place for re-engaging high-risk gym members who become at risk of cancelling is essential. It needs to be a scalable cross-channel strategy that is tailored to each member.
The better engaged your members are from the start of their journey with you, the less you'll need to focus on re-engagement. Put in place the best practices in the Successful New Gym Member Onboarding Playbook to get off to a strong start.
It includes 20+ ready-to-use message templates and a guide showing what to send and when. So, you'll set members up for long-term success with you.
Measuring success of re-engagement strategies
When you're re-engaging high-risk members, it's important to track the success of your efforts. A starting point is to look at your monthly attrition and retention rates:
Attrition rate – divide the number of cancellations by the number of members that month and multiply by 100 to get the percentage
Retention rate – take the number of members at the end of the month and takeaway the number of members acquired during the month. Take that number and divide it by the number of members at the start of the month. Then multiply that number you have by 100 to get the percentage
Attrition is a measure of how many people cancel, whereas retention looks at how many people stay. Tracking these are a useful starting point, but to really see that your re-engagement strategies are working, you need to also look at length of stay and length of membership.
Length of stay – average time (in months) between joining and last visiting
Length of membership – average time (in months) between joining and cancelling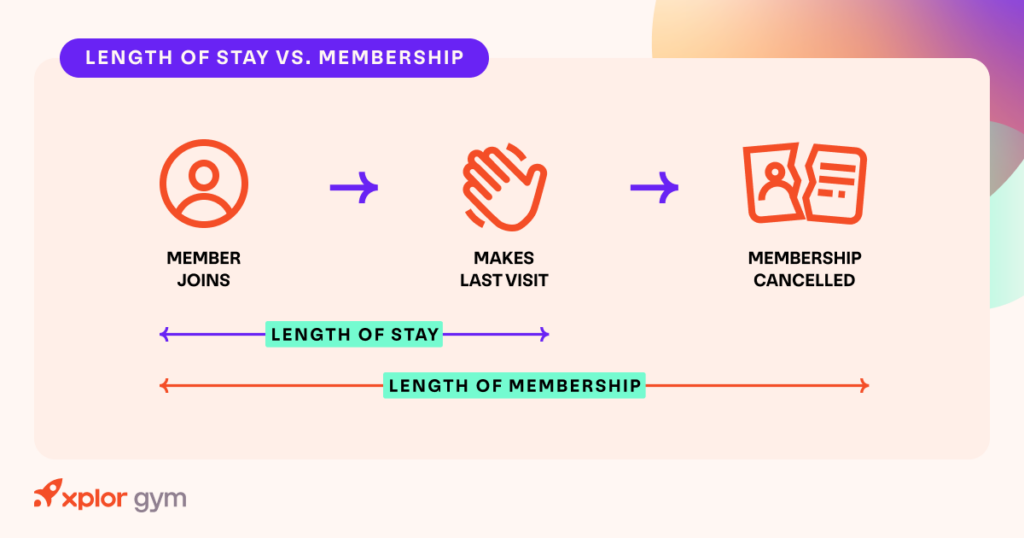 If you can increase average length of stay, you're re-engagement strategies (and engagement strategies) are working. And you'll have more members who are actively visiting for longer.
Average length of membership should also increase. And that means your average member LTV should also increase. So, you can grow the profitability of your gym business.
The wrap up…
To increase retention, it's vital to have a strategy in place for re-engaging high-risk gym members who are likely to cancel soon.
Tracking visit habits is one of the easiest ways to identify at risk members. Ideally your gym management software should automatically tell you when individual visit habits change and members become at risk.
A powerful re-engagement strategy will use a mix of channels: email, SMS, telephone, and even in-person. When thinking about re-engagement tactics for your strategy make sure you also look at how you engage all members effectively.
Track metrics like attrition rate, retention rate, length of stay, and length of membership to see how successful your re-engagement strategy for high-risk gym members is.
Get more insights to help you increase retention and reduce retention. Download your copy of the Winning The War On Attrition report.
Article by Xplor Gym
First published: 10 November 2023
Last updated: 22 November 2023