Gym member feedback can bring incredible value to your business. With the right mindset and approach, you can gather a regular flow of constructive feedback. And use this to increase member loyalty and grow your gym or fitness club.
In a live panel session, we were joined by industry experts to talk about all the ways fitness businesses like yours can use member feedback to cultivate loyalty. Missed the session? Watch it back here.
Don't have time to watch? No worries, read on for key takeaways from our expert panellists with 11 ways you can get actionable gym member feedback to build gym member loyalty for long-lasting success.
Meet the experts
Before we dive in, let us introduce you to our experts! And that starts with our fantastic host:
Julie Allen – Business Development Director at Active Insight – Julie has worked in the active leisure industry for 18 years and is passionate about creating engaging, memorable member experiences that lead to happier, healthier lives.
Julie was joined by an awesome group of panellists:
The importance of gym member feedback
Gathering actionable gym member feedback starts with understanding why feedback is so valuable for your fitness business.
How do you want members to perceive your club? You'll likely have a good idea of how you want members to feel about your business. And how you want your brand to be perceived.
A leading provider of customer insight, business intelligence and consultation services to health and fitness organisations, Active Insight asks customers to describe their business in 3 words. Those 3 words should define your member experience.
Feedback will help you see whether members see your club in the same way you do. It will show you gaps between your expectations and the reality of a member's experience across their journey with your business. It will help you see how well your team is doing in consistently delivering on your brand values.
"I live and die by this quote that's gone with me throughout my career in the fitness industry. 'Your smile is your logo, your personality is your business card, and how you leave people feeling is your trademark.'

It's such a powerful quote. And as an owner or operator if you really think about yourself and build your values around that, you will create the team you need in place to be in line with your own ethos, your own values, and your own morals."

Amy Ritson
You need to approach feedback with the right mindset to really get the most from it. That means not underestimating the value of it. You need to show you are listening and reacting to that valued feedback.
"Historically many of us have thought it's just feedback, I know the issues. But we really need to shift that focus to understanding that feedback is vital business intelligence that you can act on and move your business forward."

Julie Allen
Feedback provides visibility into the overall member experience. It's essential to finding trends and adapting effectively. It's not just about measuring in-person experience, you need to take it online too.
"The online journey is just as important in getting feedback. Most people would book a restaurant without going there first. So, we need to adapt to and make sure we're looking at how feedback shows up online as that impacts the member journey."

Lee Wood
Making feedback a habit
To get actionable gym member feedback, it needs to be sought out regularly. An annual survey won't cut it.
Successful gym owners and operators create a culture where feedback is welcomed and strategically sought out through a mix of reactive and proactive channels. Feedback should happen regularly; you should be looking for it daily.
That starts with making feedback part of your sales process. Show prospective members what others are saying about you – on noticeboards and in-club screens, and on your website. Actively share and react to feedback. And, during the sales process, when you have the opportunity, ask people who choose not to join for feedback.
Research from Dr Paul Bedford and IHRSA found that 87% of members who were onboarded effectively were still active after 6 months. Seeking feedback as a part of your gym member onboarding process is an essential to effective onboarding. And helps create a member feedback habit.
"You should ask for feedback on the first visit. It's just something else that we should get our new members when we're onboarding them into the habit of doing…

If you keep asking for it consistently, at some point you'll get it. Hopefully, it will be good. If it's bad, then again, you'll have got it and you can then respond to it. But getting people into the habit of giving feedback and showing them all the different ways to feedback matters."

Guy Griffiths
While it's not always easy, getting feedback at the point of cancellation is also essential. The Winning The War On Attrition report found that 52% of cancellations happen silently. Members quiet quit without telling clubs why.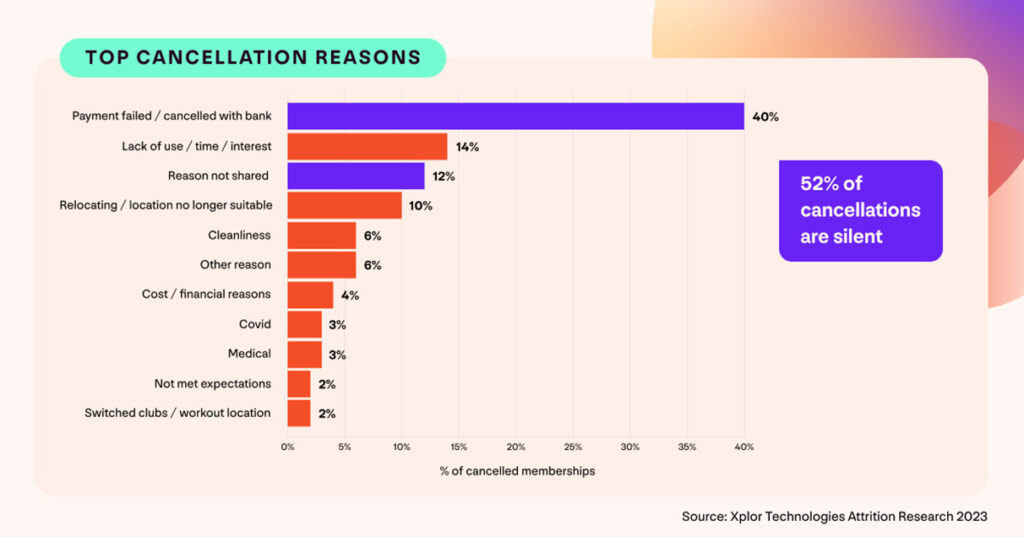 If you can get members into the habit of feeding back regularly (following the tips below), you'll go a long way to encouraging members to tell you why they are cancelling. And that's essential to understanding the real reasons why members want to leave. Use that data to continue to support the member and improve your services.
"If we spend more time at the point of cancellation and change our language, we would actually learn a lot about the overall customer experience. And hopefully find a way of signposting members within our facilities to ensure they stay and continue an active lifestyle. Or at least end the relationship positively, to leave the door open for a return."

Julie Allen
11 ways to get actionable gym member feedback
We've looked at the importance of feedback and why it needs to be a regular occurrence across a member's journey with your fitness business. How do you make sure feedback is actionable so you can use it to cultivate loyalty?
A cross-channel approach is essential to letting members give feedback in their preferred way. You need to be able to effectively capture and act on feedback from all channels.
"You have to be aware of people's preferences in how they want to feedback. With a smaller membership base, you can really tailor that. Multiple channels are essential. Some people don't like giving feedback, for example if it's negative. They might not feel comfortable telling you on the phone but might email you. Even retro feedback boxes work."

Amy Ritson
Here are 11 ways to get actionable feedback:
1. Create a culture that's focused on feedback
The culture of your business is essential to getting more actionable feedback. Whether you are an independent or multi-site operator, you should make sure feedback is encouraged, welcomed, and communicated at every level of your business.
That means making member experience a consistent topic during team meetings and 1-to-1s across your gym staff. The more focus you give creating a consistent member experience, the more energy your team will put into it.
Every member of your team should be regularly seeking verbal feedback from your members. A simple 'are you enjoying your visit today?' or 'when will we see you again?' as a member is leaving will encourage a dialogue. Building the habit of feedback while also helping members build the habit of keeping active.
"Verbal comments help you to adopt a proactive management style – listening and picking up an issue. And celebrating successes.

Verbal comments should be logged to track key trends within the business. Report on all feedback and communicate it internally for continued learning and development of processes.

This will also make sure all team members are aware of key trends. And will empower the team to deal with comments proactively and close the feedback loop more effectively, rather than pass issues to other team members.

Consider where feedback is discussed internally – it should be on all meeting agendas across all departments. Language is crucial here – avoid calling it 'Feedback' on the agenda, consider calling it 'CX intel'. You'll position feedback as vital as any operational tests that take place daily."

Julie Allen
2. Seek feedback via your website
Your website is a great place to gather feedback from members. Make sure you have clear call-to-actions and an effective form (or link to a survey) where members can feedback.
It can be helpful for members who have something they want to share with you to have the option to do this online. Having a clearly signposted way to feedback on your website will encourage members to come directly to you rather than leaving negative feedback on social media and other public forums.
3. Use technology to automate feedback
Resource is always a challenge for gym and fitness clubs. With retaining and attracting staff an issue now more than ever, use your gym management software to automate the process where you can.
Create triggers at key points in your member's journey that will automatically use your gym CRM to send email or SMS messages inviting feedback. For example, during the new gym member onboarding process use gym marketing software features to send triggered emails and SMS at key points in the first 12+ weeks asking for feedback.
"We make sure we get that data to the right place to be able to analyse it and get the outcomes that will let us make a difference. It's really tricky to do, and takes resource, but to get that balance right we use automation in a big way.

The phone is absolutely the most personal touch you could have, but increasingly people don't want to answer or make phone calls. Automation makes it easier to get regular feedback and data we can use – positive and negative. We give daily opportunities for feedback."

Lee Wood
4. Pick up the phone
While not everyone wants to make or take phone calls, it's still an effective way to get feedback and show you care. It can be used to compliment automated outreach for feedback – if a member isn't opening your messages or hasn't responded after a few requests, use a phone call to reach out.
Phone calls are also a great way to follow up directly on feedback a member has left. You'll get more information to act on and its more personal than a written response.
"Phone calls are an underrated way of retaining members. It's hard to do, especially when you have 1,000s or 100s of members joining each month, but it shows you care. And it shows that you are reaching out to people checking in with them. It helps drive them to the best channels to give feedback."

Guy Griffiths
5. Use Net Promotor Score (NPS) surveys
Great for measuring both satisfaction and loyalty, NPS surveys use one question that members are asked to rate on a scale of 0-10: 'How likely are you to recommend [Your Club Name] to someone you know.'
"Why is NPS powerful? It proves both dimensions of loyalty. On one hand members will question whether they are getting value for money and are satisfied. On the other hand, NPS really packs a punch when it highlights the emotional element of loyalty with wonderful comments that can be used to celebrate successes."

Julie Allen
Members who score you a 9 or 10 are your raving fans, they love coming to your facilities and are committed to you. Those who score you 7 or 8 are passives and most at risk of leaving to try something new like a competitor who has opened nearby.
"7s and 8s are a very interesting category because we can learn a lot from them. They're the category we'd ask but what's one thing we can do differently to improve your experience. They've got the answers."

Julie Allen
And members who give you a score between 0 to 6 are detractors – they are often frustrated and can see operational issues. If you have a large proportion of detractors, you may have a gym member loyalty issue.
6. Nail your resolution process
Having a robust resolution process in place will show your members that you are really listening. That you hear them, and their feedback is valued. Communication is key.
Even if you can't always make requests happen, reach out and show you've heard. Have empathy. If you can pick up the phone it will really add a personal touch.
If members know you act on feedback, they are more likely to spend the time providing constructive feedback.
"If you actually listen to members and tell them what you're hearing to prove you're listening that will help your member retention."

Guy Griffiths
7. Celebrate success
Feedback is more than just complaints. The more you create a culture that welcomes feedback in all shapes and forms, the more actionable feedback you'll attract.
An effective feedback strategy will involve celebrating wins and understanding what's going well, just as much as identifying what can be improved on. Share successes with your team and members to motivate them on.
"From the pot of feedback tickets that come through I send out a monthly leader board. It gives managers a little nudge to look at where they're sitting in the table. And creates a culture of making sure we're looking at our feedback and doing something with it. At each centre we have an employee of the month and a member of the month."

Sara Rawlinson
Publicly sharing feedback – positive and negative – and the action you've taken as a result, will help create a commitment to making time for feedback. And you'll encourage more members to feedback by showing you take it seriously.
8. Respond to unsolicited online feedback
By proactively seeking feedback from members regularly, you can channel most of the feedback you get into your chosen channels. However, you'll very likely still get feedback via social media and other online review platforms, that you've not sought out. Hopefully, it's positive, but that may not always be the case.
How you respond to that feedback is what matters most. You need to monitor places where uninvited feedback may be left. And train your team to respond appropriately.
"We have to be on the ball because we have to be responding to people. It's great there are easy places for people to message us or criticise us. But if we're not there to reply it makes us look bad. That's a staff training process where we need to make sure we have the right people responding to these kind of messages."­

Sara Rawlinson
This response could push the person who has provided feedback to the right place for you to deliver a constructive outcome.
"People are leaving feedback online and quite often that's negative unsolicited feedback. But if you ask for more and point them to your online feedback portal (or even just to your centre directly), you can bring the feedback into one place, which makes it easier to measure and manage."

Guy Griffiths
9. Give the option of confidentiality
Especially if its negative, giving feedback can be daunting for members. Giving a range of different channels can help encourage those who want to avoid a confronting conversation the option to feedback in a comfortable way.
If you are using feedback surveys you could make providing your name and contact details optional, so it's easy to stay anonymous. Make sure you ask the right question in your survey to get constructive feedback that can be actioned.
"You have to be aware of people's preference in how they want to feedback. With a smaller membership base, you can really tailor that. Multiple channels are essential. Some people don't like giving feedback, for example if it's negative. They might not feel comfortable telling you on the phone but might email you. Even retro feedback boxes."

Amy Ritson
10. Ask for feedback when members cancel
You should be seeking feedback from members regularly and when they cancel is no different. Where you can ask for feedback and encourage honesty. This can be an easy entry point into getting feedback and often highlights issues you can address.
Even where feedback is limited you can look for trends in the data available via your gym management software to find trends that could be addressed.
"Put in the processes and work to get more data, perhaps beyond leave reason. Did they have an induction when joining? Did they have a programme? Did they leave a review? Put all that data together with a leave reason if you have one and you'll get the bigger picture. Incrementally try to get more feedback from leavers each month."

Guy Griffiths
11. Publicly share feedback (and the action you've taken)
You and your team are busy, it can be tempting to overlook feedback and set it aside as something to do another time. Where you can, share feedback – good and not so good – via your gym marketing channels. Show the action you've taken because of the feedback.
By doing this regularly, you'll commit to setting aside time for gym member feedback. Plus, members will see how serious you are about feedback and will be more likely to open up to you.
"There also needs to be a commitment on feedback from the team. It's easy to get busy doing something else and set feedback aside. What I ended up doing in my facility was doing 'Testimonial Tuesday' on socials. I shared some feedback every week and that was my commitment to actually looking at feedback."

Amy Ritson
The wrap up…
To get actionable feedback you need to create the right environment to receive it. It needs to be a part of your gym or fitness club's culture. You need to routinely seek it out. Listen and take visible action. And give members a choice of channels to provide you with feedback through.
If you can build a feedback habit in members, you'll be on the way to reducing attrition. And that's key to achieving business growth in the long run.
Request a demo to find out how Xplor Gym can help you automate feedback requests at key times in a member's journey with you.
Article by Xplor Gym
First published: 31 October 2023
Last updated: 22 November 2023