Reviewing the average cost of a gym membership is an important step in setting prices. Memberships are the lifeblood of gyms and fitness clubs. So, the right approach to setting the price of gym memberships at your club is essential to your success.
Opening a gym or fitness club? You'll need to create membership packages and set prices for each package and contract you want to offer.
Creating an effective gym pricing strategy will set you up for success. Knowing gym membership average costs for your area, and the UK in general, is a key step in setting prices.
When you've worked out what to charge, you'll need the right approach to showcasing value to members. The correct tools will help you get this right and manage memberships well.
What is a gym membership?
That may seem an obvious question, but it's worth clarifying the basics. Typically, a gym membership will give an individual (or group such as a family) access to a gym or fitness club with a specified list of benefits (e.g., use of gym equipment, participating in group fitness classes, etc.).
A gym membership is often associated with a regular fee that's paid monthly. Yet, there are many types of membership models and gym contracts available.
Typical gym membership models include:
Rolling or flexible monthly memberships – Rolling monthly memberships have become popular in recent years. For example, budget leader, The Gym Group, offers no contract memberships. Many gyms provide a similar flexible option with a notice period to cancel (often 1 month to 90 days). This is usually a more expensive membership option. Members are paying a premium for flexibility.
Contract monthly memberships – These are often for a 12-month period. Members commit to paying a regular monthly instalment (typically by Direct Debit). This type of membership is usually cheaper than a rolling or flexible membership. Once a contract is up, most clubs choose to switch members to a rolling monthly membership.
Annual memberships – Paid upfront in full, these memberships suit those who want to commit but prefer not to pay monthly. Are you thinking of providing an annual option? Set up an effective renewal campaign using your gym management software. This type of membership is often the cheapest option.
Pay-as-you-go (PAYG) or casual memberships – This type of membership lets members pay on a visit-by-visit basis. PAYG members will pay for each activity or buy a pass that gives access for a specific period only. PAYG prices can help explain the value of paid memberships. If a member uses their membership enough, they know they are getting value for money compared to PAYG.
Consider what you charge both paid and PAYG members when setting membership prices.
The importance of paid memberships
Gym and fitness clubs make most of their revenue from paid monthly and/or annual memberships. Paid memberships will give your business predictable revenue each month. This is especially important at times that tend to be quieter for gyms. For example, December and the school summer holiday period.
Paid memberships also help motivate members to attend on a regular basis. So, they get the most from their membership. It's easier to make excuses when you've not already invested money into a membership. Keep encouraging members to visit more often.
Even one extra visit a month can reduce the risk of a member cancelling the next month by 33%. Want to help members stick with you? Yes, then help members create a routine by coming for a workout or class at a similar time each week. Research has shown this can help them stick to regular exercise. Easier to reach those goals!
Having members who visit often will help you build a long-term loyal membership base. They will get to know you and your team. Are less likely to cancel. And are more likely to recommend you to friends. Helping you build a healthy business.
And with members who stay around for longer, comes a higher member life time value. That means your business will become more profitable and you'll be on track to achieve your growth goals. (Ever wondered how much do gym owners make? Check out this article).
How much is the average price of a gym membership in the UK?
The average cost of a gym membership in the UK is £44.92 a month. This is for a peak, non-contracted/rolling gym membership at a privately owned club. The LeisureDB's 2023 State of the UK Fitness Industry Report also found:
Independent single site gyms charged £40.01
Multi-site health and fitness clubs charged £49.62
Low-cost budget gyms and fitness clubs charged £23.07
LeisureDB found that averages differed by region. London came out highest with an average of £69.81 a month. And Northern Ireland came out lowest at £35.52 a month.
Average gym membership costs at popular chains
What do the biggest privately owned gym and club operators in the UK charge? Let's take a look! Where possible, we've found prices for peak access with a 12-month contract (single site only). These prices were checked on 3 March 2023.
PureGym
PureGym is one of the largest chains, operating 300+ gyms across the UK. A budget option, PureGym offers flexible memberships, unlimited classes and 24/7 access. All monthly packages have no contract and there are 3 options available:
Looking at PureGym's CORE option, prices differ by location. A CORE membership at PureGym Monument in London currently costs £34.99 per month, plus a £20 joining fee. Whereas at PureGym Newport in Wales, this membership costs £19.99 per month, plus a £10 joining fee.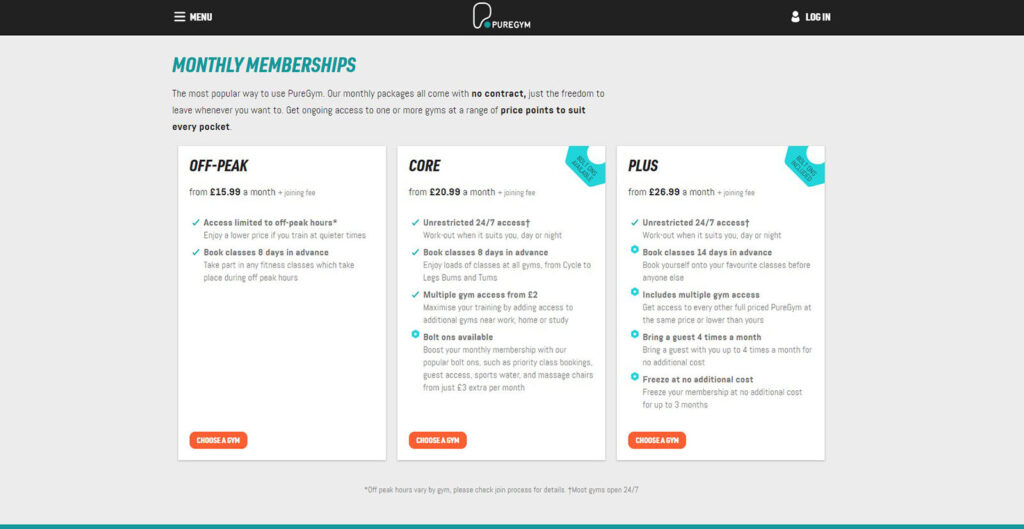 The Gym Group
The Gym Group was established in 2007. With 230+ sites, the Gym Group provides high-quality, low-cost gyms across the UK. The budget chain offers 24/7, no contract memberships as standard.
Much like PureGym, The Gym Group offers a range of different access options. We've looked at the do it gym membership option that gives access to one gym with unlimited classes.
Prices differ by location. A do it gym membership at The Gym Group London Monument costs £35.99 per month, plus a £15 joining fee. By comparison, the same membership at The Gym Group Swansea costs £16.99 per month, plus a £10 joining fee.

Anytime Fitness
Anytime Fitness UK operates a franchise model. The franchise chain has over 185 UK clubs, operated by 100+ independent business owners. Together these clubs serve over 190,000 members.
As a franchise, the range of membership options on offer does differ by site. We've looked at a couple of clubs in different parts of the UK to see how they compare.
Anytime Fitness Euston offers options including a 12-month contract for £39.99 a month. Plus, a one-off payment of £35 for a key fob. This membership includes 24/7 access to 5,000 clubs in the UK and worldwide.
Anytime Fitness Southport offers a 12-month contract for £29.95 a month. This includes 24-hour access and use of over 160 UK clubs.
Nuffield Health
Nuffield Health runs over 114 fitness & wellbeing clubs across the UK. Nuffield provides members with access to gyms, group fitness classes and swimming pools. Plus a wide range of wellbeing services.
Membership prices differ by site and based on the facilities available. The City Fitness & Wellbeing Gym located in central London. It offers a 12-month anytime access membership for £117 per month, plus an activation fee of £29.
The Barrow-In-Furness Fitness & Wellbeing Gym offers a 12-month anytime access membership for £27 per month. Plus, an activation fee of £27.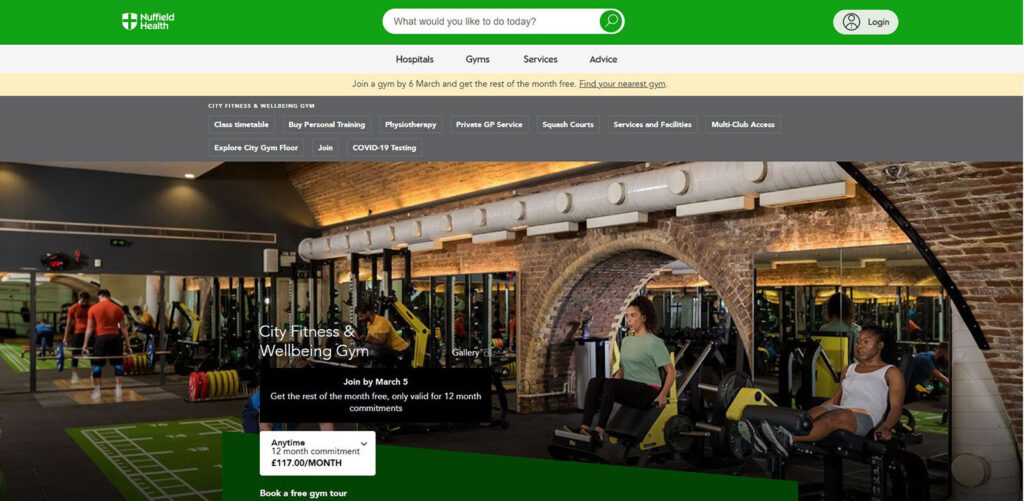 David Lloyd Clubs
David Lloyd Leisure is one of Europe's leading health, sport, and leisure groups. The group runs 101 family-focused clubs across the UK. The clubs offer a place to stay fit and healthy with access to state-of-the-art facilities.
There is currently no online joining option for David Lloyd Clubs. And prices are not published on the operator's website. Aggregator websites suggest an individual membership costs around £94.50 a month (prices vary by location).
Snap Fitness
Part of Lift Brands, franchise operator Snap Fitness has a global network of over 1,000 gyms in 20 countries. Snap Fitness has over 78 clubs in the UK that offer members 24/7 access.
The cost of a gym membership at Snap Fitness differs by location. We found that Snap Fitness in Elephant & Castle, London, charge £34.99 per month for a 12-month membership, plus a £30 upfront fee.
Snap Fitness Stourbridge in the West Midlands, charges £22.99 per month for a 12-month membership. Plus, an upfront fee of £30.90.
énergie Fitness
énergie Fitness is a gym franchisor with over 100 clubs in the UK and Europe. The brand focuses on offering members everything they'd expect from a boutique gym for less.
énergie Fitness typically offers three tiers of membership –
Classic – gym and classes plus online options
Wow – multi-gym access, a total class package plus extra support
Epic – the same benefits as the Wow membership, plus VIP passes, towel hire, and personal training
We looked at the classic 12-month membership and prices differ by location. énergie Fitness Old Street, London, offers this membership for £34.99 a month, plus a £19.99 joining fee.
énergie Fitness Tunstall near Stoke-on-Trent offers this membership for £19.99 a month. Plus, a £10 joining fee. This club offers the membership with no commitment. Members can cancel giving 30 days' notice from their next scheduled payment date.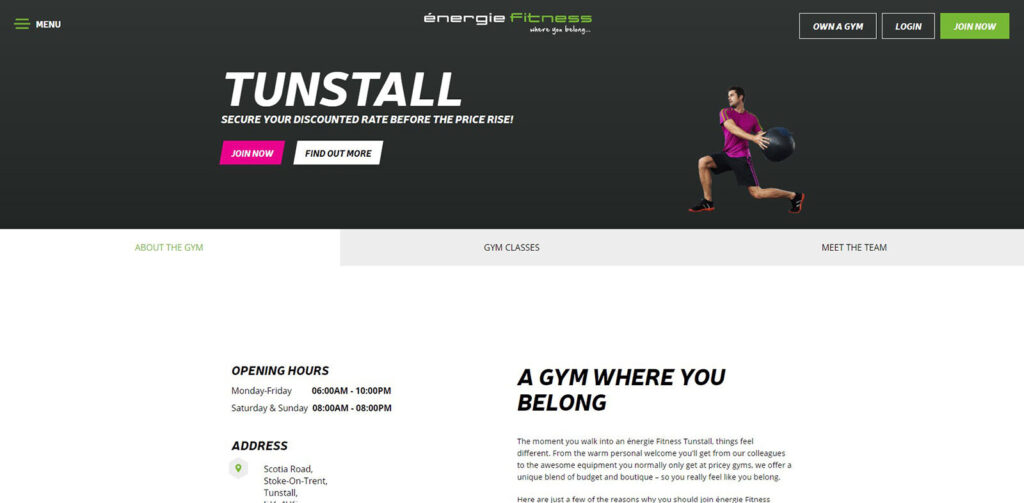 JD Gyms
JD Gyms offer low cost, no contract gym memberships with access to quality equipment. The budget operator runs 75+ gyms across the UK.
Prices are always low with no contract but do differ by location. We found that a standard membership for JD Gyms Leeds South costs £22.99 per month, with a £20 joining fee. By comparison, JD Gyms Dundee offers a standard membership for £19.99 per month, with a £20 joining fee.
The chain also offers a Plus+ membership that includes use of any gym.
Bannatyne
Bannatyne Health Clubs offer state-of-the-art gym equipment and group fitness classes. Plus, swimming pool and spa facilities. There are 69 clubs across the UK. Membership prices differ by location and facilities available.
Bannatyne's Millbank Health Club, London, offers a 12-month membership with access to 66 clubs. This costs £69.99 per month, plus a £25 joining fee.
It's Lowestoft Health Club offers a 12-month membership with access to 9 clubs for £38.99 per month, plus a £25 joining fee.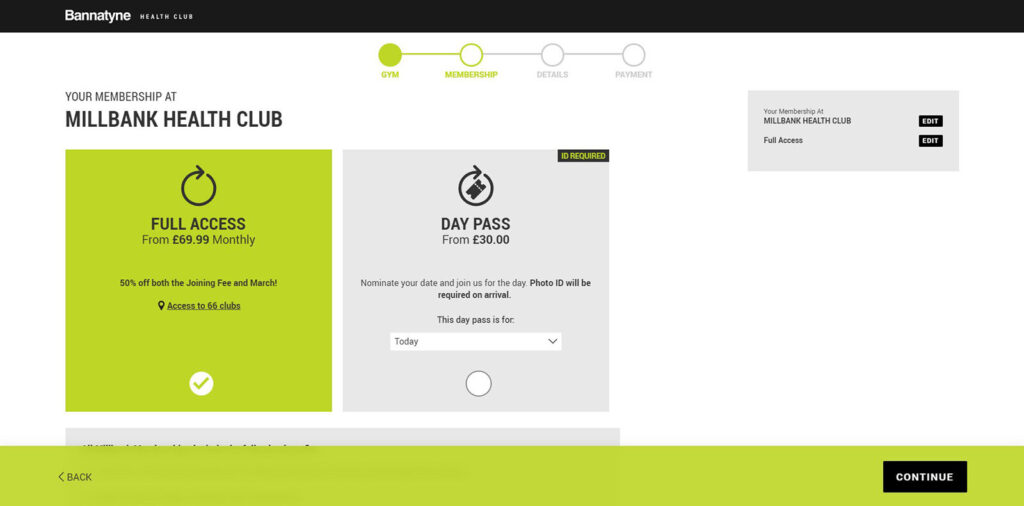 Fitness First
A market leader since the 1990s, Fitness First runs 39 clubs across the UK. It offers classes, equipment, personal training, and customised work outs.
As with all large chains, membership prices differ by location. And based on the facilities individual clubs have. A membership to Fitness First London Bridge Cottons costs £99 per month for 12-months. By comparison, a 12-month membership to Fitness First Poole costs £29 a month.
Calculating membership prices
As we've seen, the average gym membership cost differs across the UK, even at clubs operated by the same chain. Gym membership pricing is affected by 4 key factors:
Location – A gym in central London will need to charge a very different fee to one outside of London. The location of your gym or fitness club will impact pricing. Overheads are more expensive in urban areas – and members expect to pay a higher fee.
Facilities and services – The cost of a gym membership will also vary depending on what's included. Clubs will have a range of membership options. Each with different activities and services included. For example, gym-only memberships, memberships including fitness classes as well as gym access, etc.
Length – most clubs will have a variety of membership durations available. A 12-month membership paid upfront in full is typically cheapest, if available. Usually the longer the contract, the lower the monthly cost. Many operators offer rolling or no contract memberships to give members greater flexibility.
Competition – the type and number of clubs near to your location(s) will impact what you can charge members. You'll need to stay competitive, showcase value for money, while remaining profitable.
Looking at the price of a gym membership at your club? You need an effective gym pricing strategy that accounts for these factors and more.
Joining fees = an important element of average gym membership cost
Although they are one-off, joining fees are an important part of the price of a gym membership. Some gyms and fitness clubs also call these fees:
Admin fees
Activation fees
Upfront fees
One-off fee
When calculating membership prices, consider what to charge members upfront when joining. A joining fee usually covers:
What it costs to attract a new member (marketing etc.)
The admin work needed to get a new member started at your club
The risk of a member cancelling soon after joining (covering inductions, payment set up and any perks given upon joining that you won't be able to recoup the cost of)
The higher the price of a gym membership, the higher the joining fee will be.
What's the value of a gym membership?
There are so many fitness and wellbeing options available to choose from today. So, how can your fitness club stand out and deliver unquestionable value?
Cheer members on
Consumers have high expectations. They want a helpful, trustworthy service from the brands they choose to invest in. Showcase the value you offer from the moment a prospective member discovers you. Getting it right from the start is vital. That means you need an effective new gym member onboarding process in place.
Members join for a reason, with a goal in mind, you need to help them set and reach that goal. Your onboarding process will help set you up for success with each new member. And that includes making sure members remain engaged. Working towards their goals, even when setbacks happen, or life gets in the way.
Keep gym member motivation high. And the more value your members will get from their membership. Encourage members to:
Articulate what they are looking for from your club
Set specific goals, with achievable milestones to track progress. And refresh these goals often
Try out everything you have to offer. From classes to different workout equipment, and everything in between. The more members try, the greater the opportunity to find what they enjoy. And the less likely they are to get stuck in a rut
Attend often – members who visit more often are more likely to remain a member for longer. If they can get into a routine of attending at specific times on specific days, it can help members create a habit. Be sure to encourage members that a missed session won't hurt, it's getting back on track that matters
Help members achieve their goals and motivate them to keep it up over the long-term. And you'll stand out against less structured digital and outdoor options.
Build a community
Create an inclusive fitness community. This will also help you deliver value for money and help make a membership non-negotiable. There are many ways you can create a community. A community that helps members feel valued. Form social bonds. Visit more often. And feel a part of something bigger than 'just the gym'.
When you have happy, engaged members, you'll have members who will become advocates for you. Offer guest passes so they can bring a friend. Create a gym member referral programme to reward members for recommending you to others. This can also add to the community feel of your club.
Managing the price of gym memberships
We've looked at the gym membership average cost in the UK and at large chains. At joining fees. And how your club can deliver value for money. To successfully manage membership packages and prices you need gym management software.
It should be an all-in-one fitness club management system. One that makes it easy to create new membership packages and adjust prices. It should include gym billing software. So you have the flexibility to give members a choice of payment dates. And can remove the need for large pro rata payments upfront when first joining.
You should be able to create promotional offers and discounts across your memberships. So, you can make the most of marketing opportunities as they arise. And you should be able to set up a refer-a-friend programme that rewards existing and new members.
YMCA Black Country Group
Case study
Thanks to Xplor Gym, YGym can add new membership types and prices. Plus create promotion codes whenever needed.
Read success story
Set up targeted email and SMS marketing campaigns straight from your software. Increase member engagement with timely, relevant, and personalised communications. Helping members get full value from their membership with you.
With everything all in one easy to use place, you'll be able to report on business performance. That includes understanding how well your membership packages and prices are performing. So, you can make quick adjustments if needed and keep up with what performs well!
In essence…
Memberships are essential to the success of your fitness business. There are many different types of membership you can offer. Each has their own advantages and roll to play in your business.
Paid memberships are important. When members sign up to a monthly membership for a specific period, it's easier to predict revenue.
The average gym membership cost differs. The type of club, facilities, and services available, and geographic location impact price. Even across the biggest chains in the UK, prices for the same type of membership can be quite different.
Most gyms and fitness clubs will charge a joining fee. This can be an important element considered part of the cost of a gym membership. It covers the cost of acquiring a new member and onboarding them.
Members need to understand the value of a membership with you. The best way to deliver value is to help members stay motivated to achieve their goals. Plus, creating a strong community will make your club the place to be.
Software, like Xplor Gym, makes managing gym membership packages, pricing, and promotions simpler. Request a demo to see Xplor Gym in action.
Article by Xplor Gym
First published: 20 March 2023
Last updated: 31 October 2023