The gym induction is an important part of any new member journey. How effective are gym inductions? Do members actually want to attend one? This article explores these questions and more to help you master the art of gym inductions and onboarding new members.
The start of a member's journey with your gym matters as much as the end. This is more true right now than ever before with more members joining online. And some never even using their membership.
If you can get onboarding right, you'll create motivated members who attend regularly and tell you how they're feeling.
A gym induction should be part of your gym member onboarding process. It gets members into your club and sets them up for success.
Yet, the time has come to reposition this session to increase take up and make it more valuable for new members. A gym induction must also be part of a bigger onboarding journey that's customised to each individual member.
Read on to understand the value of gym inductions and how you can master the art of onboarding to keep more members coming back for longer.
Let's get stuck in!
Insights & strategies to increase retention

The Winning The War On Attrition report features exclusive insights from across the UK fitness industry. Plus, expert tips and tricks to help you engage and retain new members.
The value of a gym induction
A gym induction usually welcomes a new member to the fitness club they've joined. It typically includes a tour, information on how to use key gym equipment, and a discussion of fitness goals with a trainer.
Xplor's Winning The War On Attrition research* found that 77.3% of those with a cancelled membership had an induction of some type. That compares to 72.6% of current members.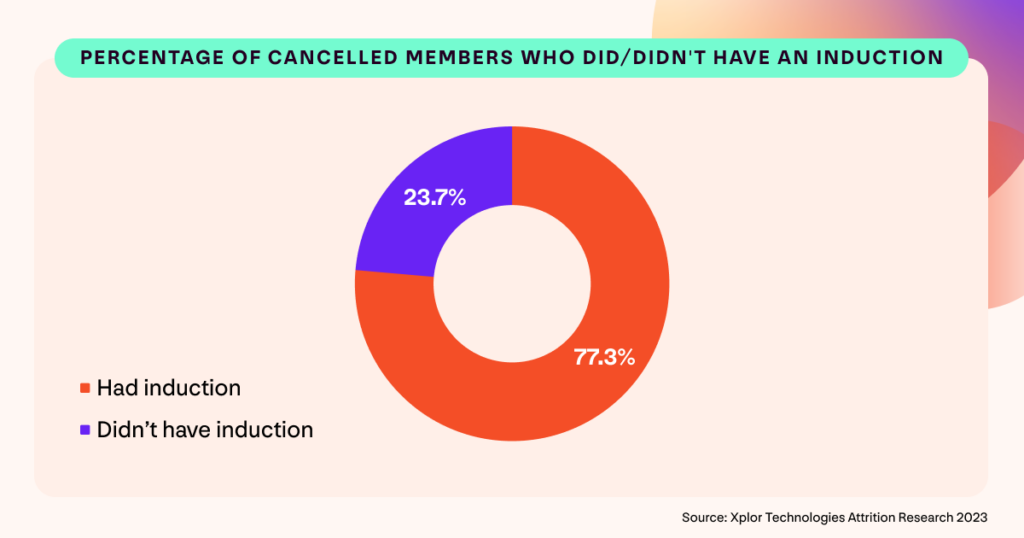 It's surprising that a slightly higher percentage of cancelled members had an induction compared to current members. Are inductions worth it? The research also found that inductions do pay off.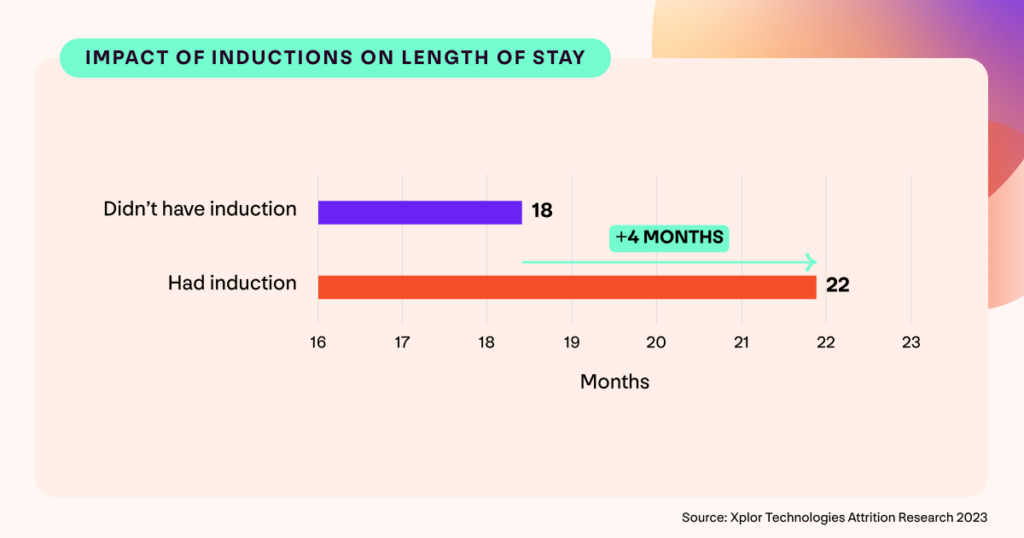 Former gym members kept visiting and using their membership for an average of 4 months longer if they had an induction. And they're less likely to have cancelled due to lack of use, time, or interest and for cost or financial reasons.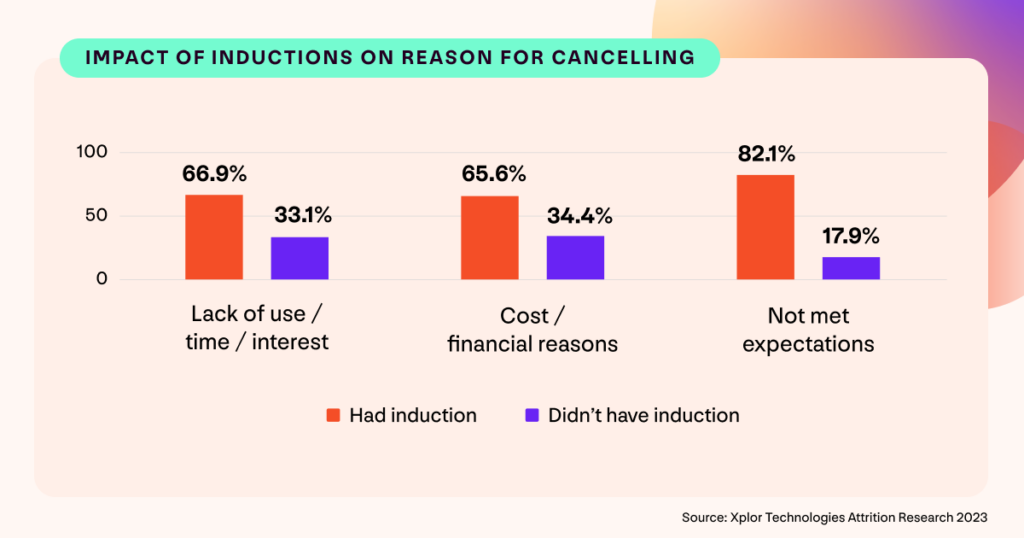 A gym induction helps a member get into the habit of visiting regularly, keeping this habit up for longer. These members also have a better understanding of the value of their membership.
82.1% of those who cancelled as their expectations hadn't been met had an induction.
Couple this with the overall high percentage of members with a cancelled membership despite having had an induction. And it's easy to see that the time has come to rethink and rebrand inductions.
Rethinking & rebranding gym inductions
All too often a gym induction is a box ticking exercise. And, unless it's their first time joining a gym, many of your new members may have had a disappointing induction experience in the past.
So, to encourage members to take part in an induction session, it needs to be positioned differently. That starts with a new name. For example, make it a welcome session instead.
Your welcome session should be personalised to the needs of each new member (as much as practical). Above all, the session should make your new member feel empowered and motivated to get the most out of their membership investment.
Everyone in your team should understand the value of all new (and returning) members attending a welcome session. So, they can clearly and concisely explain the benefits for the member.
"Every team member should experience a welcome session. This will make it easier for them to share their experience to reassure those new to exercise and sell the benefits to experienced gymgoers."

Julie Allen, Active Insight
Mastering the art of onboarding
Success is individual. Your new gym member journey will have a positive impact on attrition when you design it with your business and your members in mind.
So, how do you successfully onboard new members?
Give members a warm welcome
Start by thinking about what a valuable welcome session (otherwise known as a gym induction!) should look like for your business.
Aim to cover:
Need to know info – like how to access your app and make bookings
Tour and inductions – show new members where key facilities are and introduce them to your team members if you can
Goals and experience level – dig deep to understand why the member has joined and how comfortable they are working out
Next steps – encourage the new member to book a class, an appointment for a programme if that's part of your onboarding process, or simply ask them when they next plan to attend
Avoid heavy selling during this session, you can talk about extras without overtly selling.
"The first appointment is ideally called anything but an induction. After all many people have had a poor induction in the past. Welcome Session, Activation, Getting Started, or Step 1 are all good alternatives.

Consider having an alternative name (e.g., Fast Track) for experienced members who are reluctant to take up this session. These members have already left (failed) at least once, so need this appointment."

Guy Griffiths, GGFit
Persuade more new members to attend a welcome session (aka gym induction)
Once you've decided what a welcome session will look like (and what you'll call it), make sure all new and returning members book one (and attend):
Welcome email & SMS – when a member joins, they should receive details on how to book a welcome session in the first email and SMS
Clearly explain the benefits to the individual member – whenever you and your team talk about welcome sessions, make sure to explain the benefits. What will the member get by attending? How will it help them get more out of their membership investment?
Share details of what to expect – particularly for those new to or nervous about the gym environment, attending a welcome session can be intimidating. Help prevent no-shows by providing a basic outline of what to expect (covering basics like what to wear, what to bring, who they'll be meeting, etc.)
Remind members ahead of their appointment – send an email or SMS the day before the welcome session takes place to remind the member about the session. Give the option to reschedule if needed
Anticipate no-bookings and no-shows for welcome sessions
There'll always be some members who don't take up the offer of a welcome session. And some will fail (or forget) to show up for their booked gym induction.
Get ahead and anticipate both scenarios. Set up triggered, automated emails in your gym management software to:
No-bookings – explain the importance of and give advice on setting goals
No-shows – send a reminder encouraging the member to rebook. Also, make sure they get the email about goal setting
"It's unlikely that everyone will book a welcome appointment, and also that those who do book will all attend. So, you need a fallback plan, where all no-shows get a call and/or email/SMS to try to rebook.

And those members who turn down the appointment as they join should be re-offered the chance to book through the digital journey. And with the member benefits of a welcome session reiterated to them in the message."

Guy Griffiths, GGFit
Beyond the welcome session
A welcome session is a vital to successfully onboarding new members. And you'll be even more successful if it's part of a bigger onboarding process. Exactly what that looks like will depend on the shape and size of your gym business.
It should be a multi-touch, multi-channel journey that lasts around 60-90 days. Powerful onboarding journeys:
Help members set realistic, personal goals
Offer follow up assessments and programmes
Use segmentation and milestones to create a personalised journey
Welcome members to an inclusive, friendly environment
Provide basic fitness & wellbeing education
Encourage gym buddies
Ask for regular, honest feedback
Scale & automate your onboarding journey
As you scale and grow your business, automation becomes essential. Use the marketing automation and messaging features within your gym software to create triggers that send the right message at the right time.
For example:
After a member completes their first gym workout, send a celebratory email, and invite them to tell you about it via a quick survey
10 days after a new member joins, send them a quick email with training and recovery tips
When a member has visited 15 times, tell them about your refer-a-friend programme and offer them a guest pass to bring a friend
60 days after a member has joined, offer them a free PT session to review their goals
"Feedback during the onboarding experience is vital. It also sets the scene that feedback is encouraged, welcomed, and will be asked for from time to time."

Julie Allen, Active Insight
You can find a full schedule of essential onboarding communications with ready-to-use templates in the Successful New Gym Member Onboarding Playbook. Download your free copy!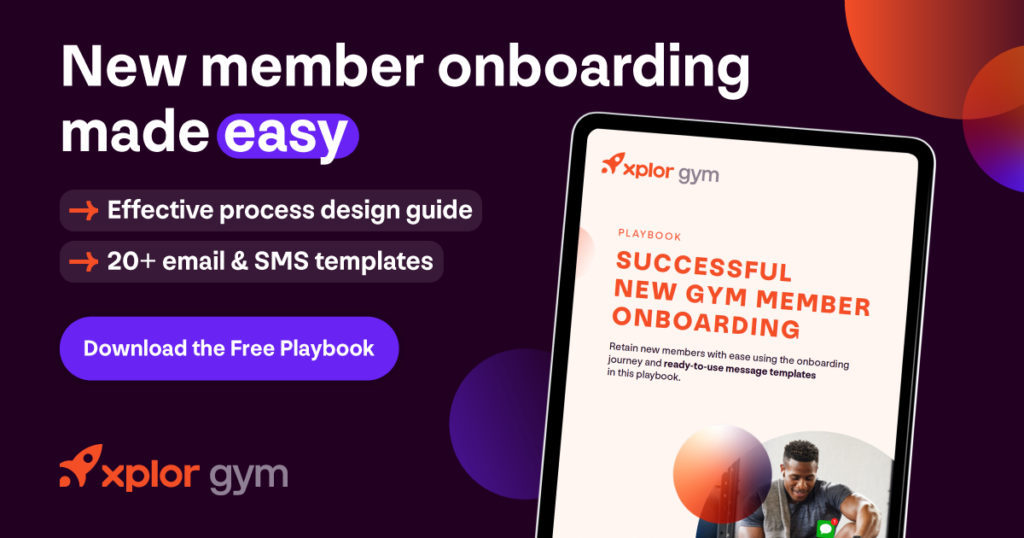 The wrap up…
A gym induction is an important element of a successful new member onboarding journey. When done well, an induction will help members get more use out of their membership and understand the value it holds.
Yet, inductions can be a box-ticking exercise and haven't always met member expectations. So, when a new member joins, especially if they've been a gym member in the past, it can be tough to persuade them to take up your offer of an induction.
It's time to rethink and rebrand inductions. That starts with a new name – for example, a welcome session. Then revamp the content of the session to cater to individual needs. Make sure members leave the session feeling empowered and ready to use their membership.
This welcome session should be a part of a longer new gym member onboarding process. Use your gym management software to create triggers to send the right onboarding message at the right time to each member. Help members build the habit of visiting regularly.
If you can master the art of onboarding, you'll set members up for long-term success. Growing retention and cutting attrition. Increasing length of stay and length of membership. Building a profitable fitness business.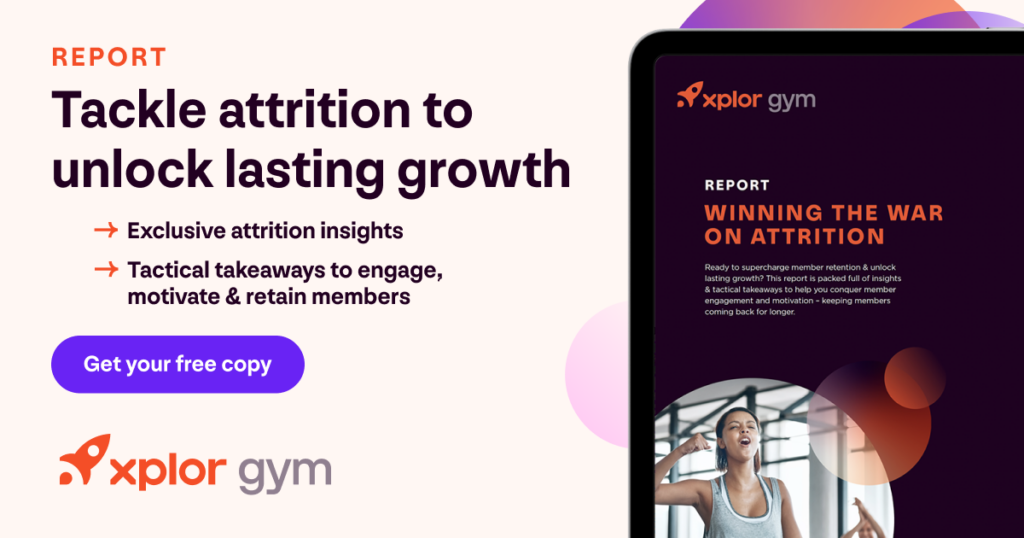 * About the research:
The attrition insights featured in this article and the Winning The War On Attrition report are based on Xplor data from 714,674 gym, health club and leisure members paying by Direct Debit in the UK & Ireland.
As well as current members, it includes data on members who held a membership that's been cancelled between January 2017 and April 2023.
The data was collected in May 2023.
Article by Xplor Gym
First published: 20 November 2023
Last updated: 20 November 2023