Everything you need to know about making gym advertising a part of your marketing strategy. With 15 of the most effective, inspiring gym advertising campaigns.
When it comes to getting attention for your fitness business, adverts work. On social media. In newspapers. Or outdoor billboards. Gym advertising campaigns can generate brand awareness and interest.
How do you get started? How can you be certain that investing in a gym advertising campaign is right for your business?
From the how's and why's of advertising to practical advice on choosing the right channel. We've got you covered!
Let's get started!
Speak to an expert

Our gym management software experts can help you set up your business for success as you scale and welcome new members.
15 impactful fitness & gym adverts to get you feeling inspired
Let's start with some inspiration! Here are 15 brilliant advertising campaigns from gym and fitness brands.
1. The Gym Group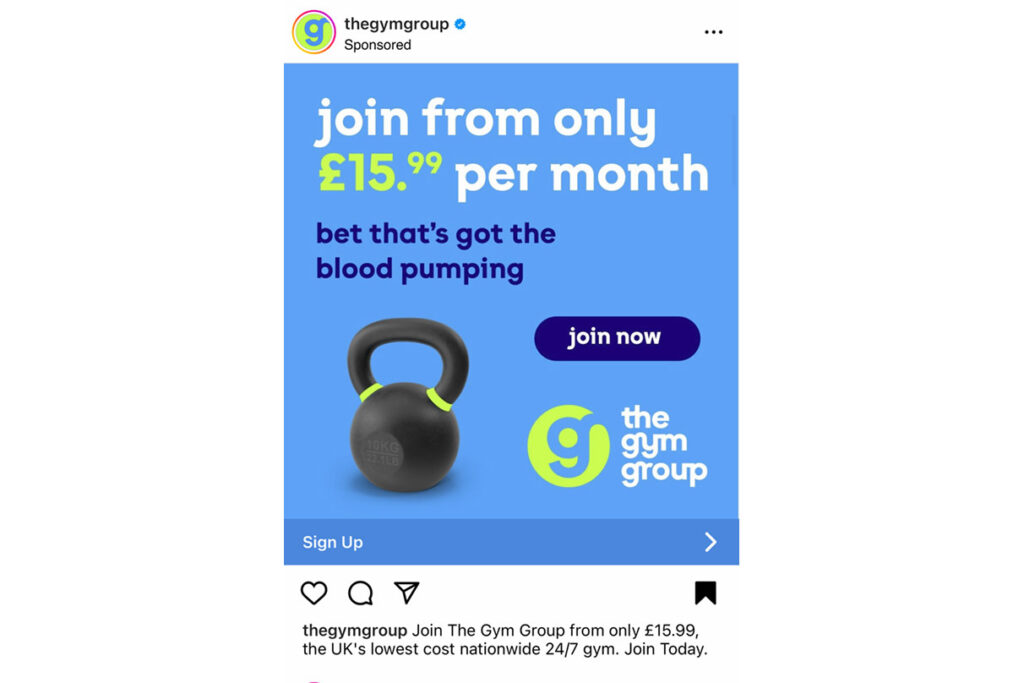 The Gym Group is one of the largest gym chains with over 220 gyms across the UK. Providing high-quality, low-cost gyms, The Gym Group specialise in 24/7, no contract gym memberships.
This Instagram ad is the perfect example of a simple, yet effective ad. The bold colours and clean design command attention. And the price-led message sparks interest. Creative copy speaks to the desire of a prospective member. Finally, the clear 'join now' call-to-action (CTA) makes the next step clear.
If you are looking to attract members, this ad is a fantastic example of a paid social ad that delivers results.
2. The Gym Group – 'Gym Face'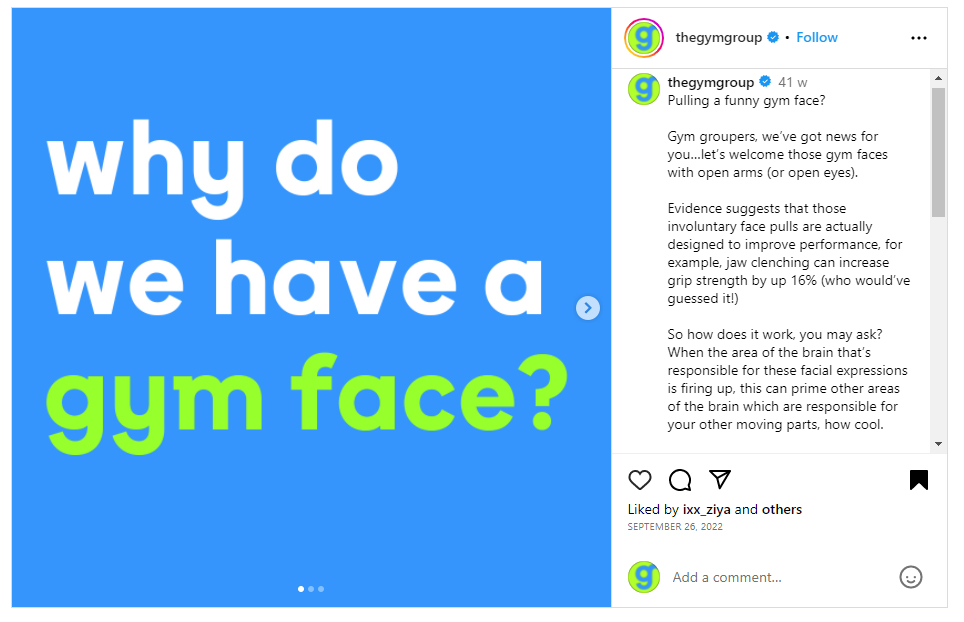 Another fantastic campaign from The Gym Group, this time an ad that was part of a brand platform for the low-cost operator.
Launched in September 2022, 'We're with you' encouraged gymgoers. And broke down barriers for new members struggling to lift the heaviest weight of all in the gym (the door!).
As well as social ads like this Instagram one, it included a 90-second video ad that gave a comedic take on the idea of feeling self-conscious at the gym:
This works so well as the silliness of it grabs the audience's attention. While the important message, that The Gym Group team are there to support and cheer them on, jumps out and inspires nervous new members to give The Gym a go.
3. 1Rebel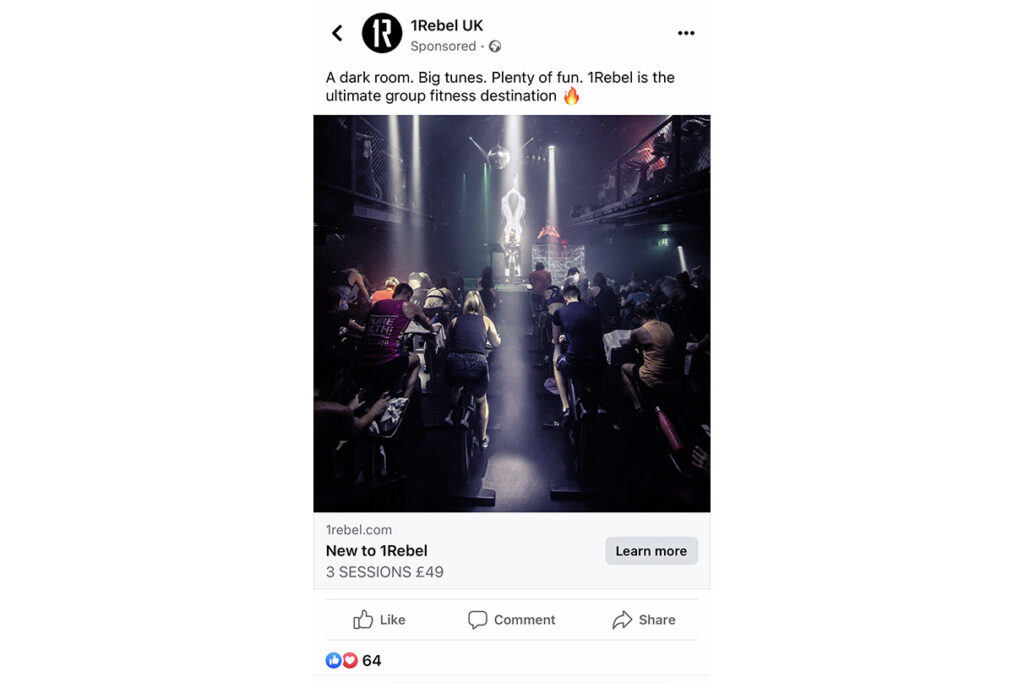 1Rebel is a leading boutique gym with locations across London (and around the world!). Specialising in high intensity group fitness, 1Rebel is leading the way. And boasts a strong following and exceptional reputation.
The Facebook ad (above) is a great example of an ad which appeals to the demographic that the boutique chain targets. A strong image from a class at 1Rebel captures attention. While carefully crafted copy appeals to the audience's desires. And use of Facebook's platform showcases an offer to inspire action.
Similarly, 1Rebel have run this Facebook Ad with a video. In 13-seconds the viewer is welcomed into a 1Rebel studio, gets a taste of the classes on offer, and is waved off with a coffee.
The high energy video fantastically sets the viewer at ease, fighting any fears that it will be an intimidating experience. And then draws the viewer in with an offer for new members.
4. Buns & Guns Gym Stewarton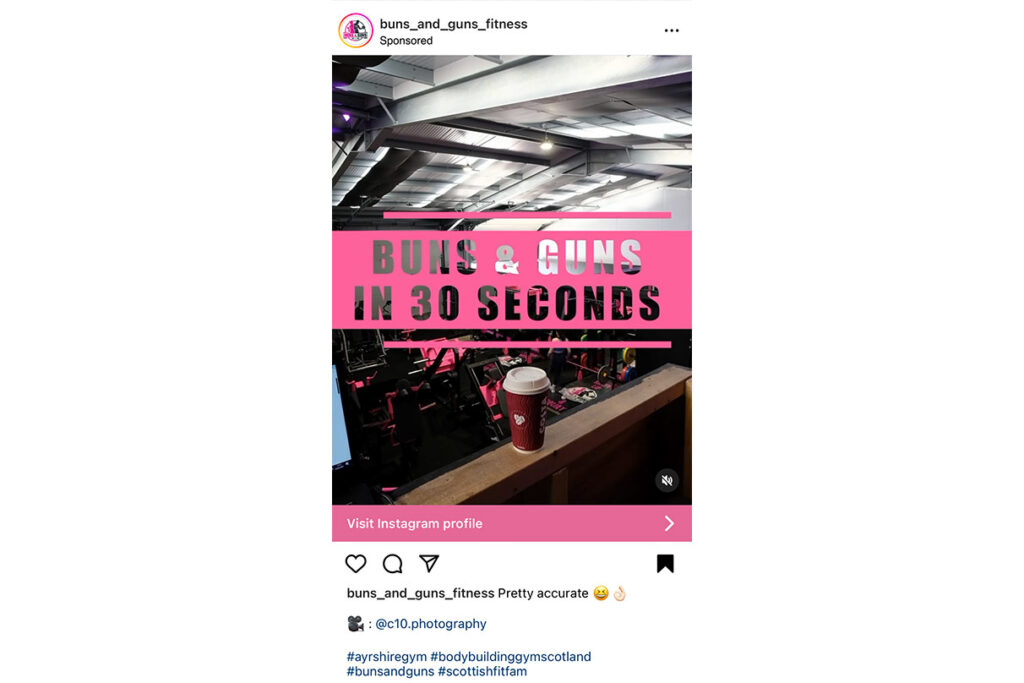 Buns & Guns is a fantastic independent gym located in Scotland. And offers weightlifting, spinning, yoga and coaching.
It's a great example of an independent that's effectively advertising on Instagram. The Instagram ad features a 30-second video that successfully gets the attention of the target audience.
Inspiring music and footage show the club as a supportive, friendly place to train. Accompanying post copy is short and sweet. While use of the ad platform's CTA section encourages visits to the club's Instagram page.
5. PureGym – 'Way More Than You Pay'
PureGym is a leading low-cost operator with 300+ gyms across the UK. The chain offers flexible memberships, unlimited classes, and 24/7 access. Plus, a place to feel-good in with friendly teams, like-minded members, and a judgement-free space.
Launched in January 2023, the 'Way More Than You Pay' gym advertising campaign ran across multiple channels. Including, social, video-on-demand platforms, TV, print, outdoors, and more.
The video ad effectively grabbed attention with a fast-paced video. And appeals to a key target group – women aged 35+ – as well as the general population.
With three characters transported into a PureGym club, it shows the value for money. As well as the flexibility that the chain offers members from all walks of life.
The ad inspires action with the characters quickly getting into their work out and a 'prices from' message.
6. Gymbox – 'Cutting Through The Bulls**t'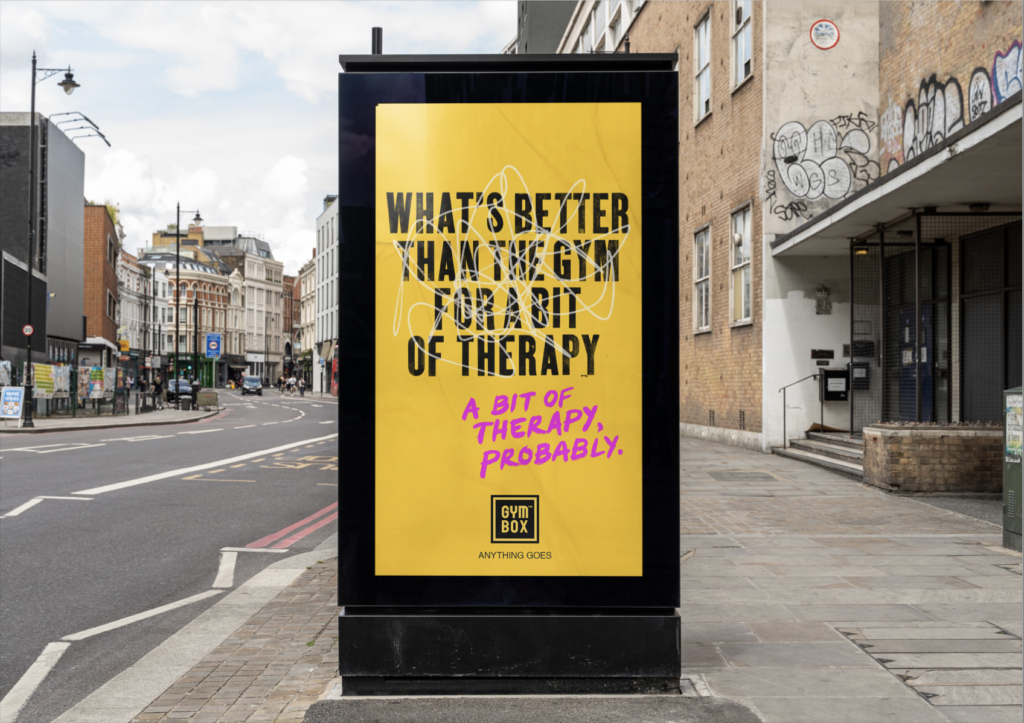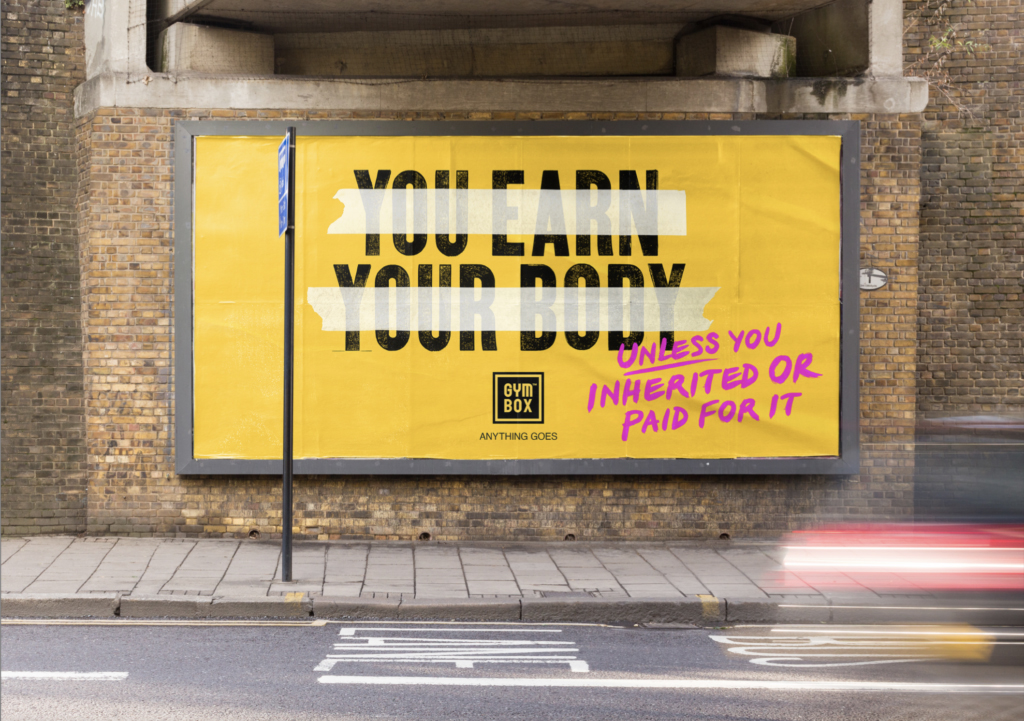 (Credit: Gymbox)
Gymbox has pioneered a new type of gym experience. With locations across London, the gym chain inspires and entertains gymgoers. Bold branding, vibrant interiors, and unconventional classes. You know when you're at Gymbox!
An ad from Gymbox always captures attention and challenges the status quo. The brand doesn't shy away from controversy, which may not suit all owners and operators.
The 'Cutting Through The Bulls**t' campaign launched in January 2023 with integrated and outdoor media. And it successfully disrupted the fitness category and reinforced Gymbox's position as the 'antidote to boring gyms.'
The billboard and bus stop ads, command attention with bold brand colours and clever creative that mimics graffiti. The ads entertain the target audience, dispelling cliché motivational quotes in a humorous way.
7. Gymbox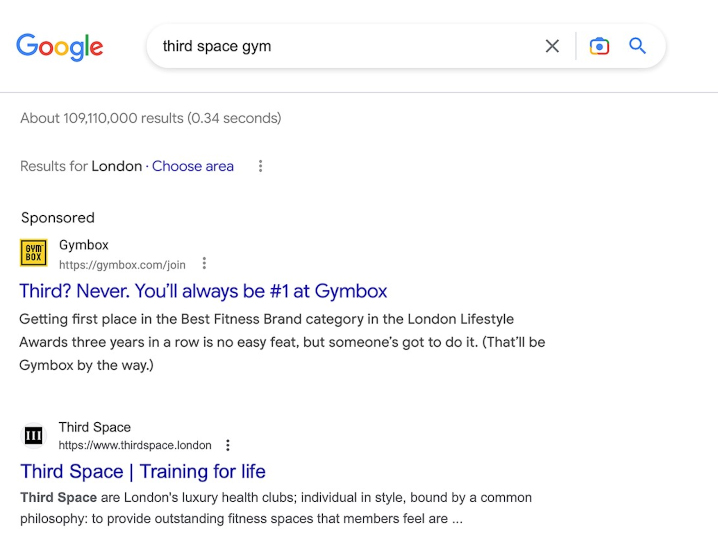 Another example from Gymbox, that shows the playful nature of the brand.
In this paid search Google Ad, Gymbox bids on the keyword of a competitor. Bidding on a competitor's name is not for every brand. However, this is a creative approach that makes the most of the limited space available for this ad format.
8. Third Space – #TrainDays
Third Space offer luxury health clubs across London. The operator has created beautiful spaces that are individual in style. All are built to provide exceptional fitness spaces that members feel are their own. In short, they've created a third space to compliment the home and workplace.
In the '#TrainDays' video advertising campaign from 2022, the luxury health club operator effectively draws in the viewer with alluring, ultra-high quality video footage. Then shows how the health clubs fit into the daily life of those living and commuting to the capital. And create desire by showing how a visit can turn everyday into a good day.
The video ad finishes up with a strong call to action encouraging the audience to make it a #TrainDay by joining now.
9. World Gym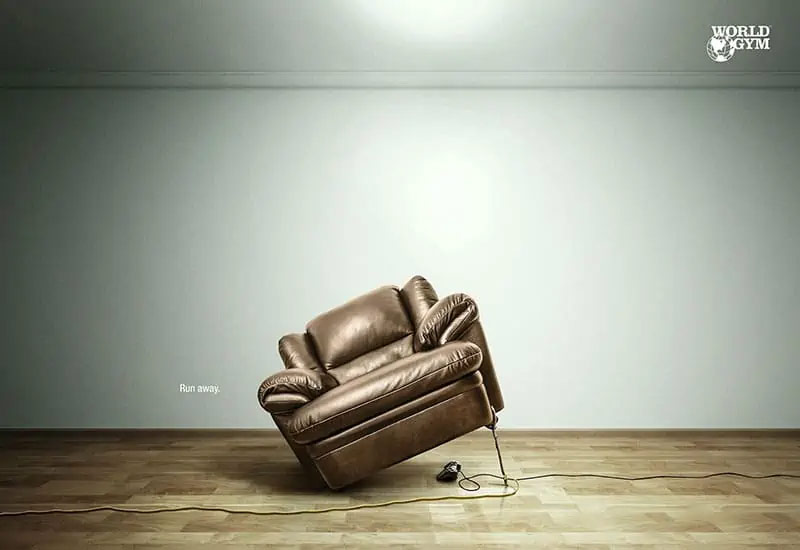 Credit: World Gym
Next let's look further afield. World Gym is an iconic gym brand. Known for serious workouts with large-scale gyms in locations around the world.
This print ad is worthwhile including in this list. It captures attention with humour while getting to the point. Appealing to consumers who enjoy time on the sofa playing video games, the minimalist ad simply tells them to run away. And the logo lets the target audience know where they need to run to!
10. Golds Gym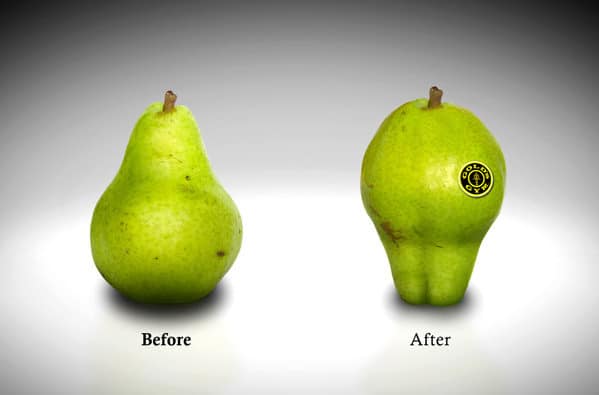 Credit: Gold's Gym
Another fun, creative example print ad example. This time from Gold's Gym.
One of the biggest health & fitness club chains in the world, Gold's Gym has been operating for over 50 years. Established in the US, the chain offers cardio and strength training, alongside group exercise classes.
The ad gets the body transformation message across in an in-direct way, even using the brand as a label on the after pear.
This, and the previous example, are effective for this well-known brand. For newer gyms and fitness clubs, additional CTA information may be required in some contexts.
11. Nike – 'Find Your Greatness'
Now, let's look beyond gyms and health and fitness clubs. Sports footwear and clothing company, Nike, know what it takes to make an impactful fitness ad.
The 'Find Your Greatness' advertising campaign showed that everyday people could start moving. And aimed to inspire more people to get active.
Debuting around the world during London 2012, it was one of the most talked about video ads at the time. It drove US$506m in revenue growth and increased Nike+ membership by 55%.
12. Les Mills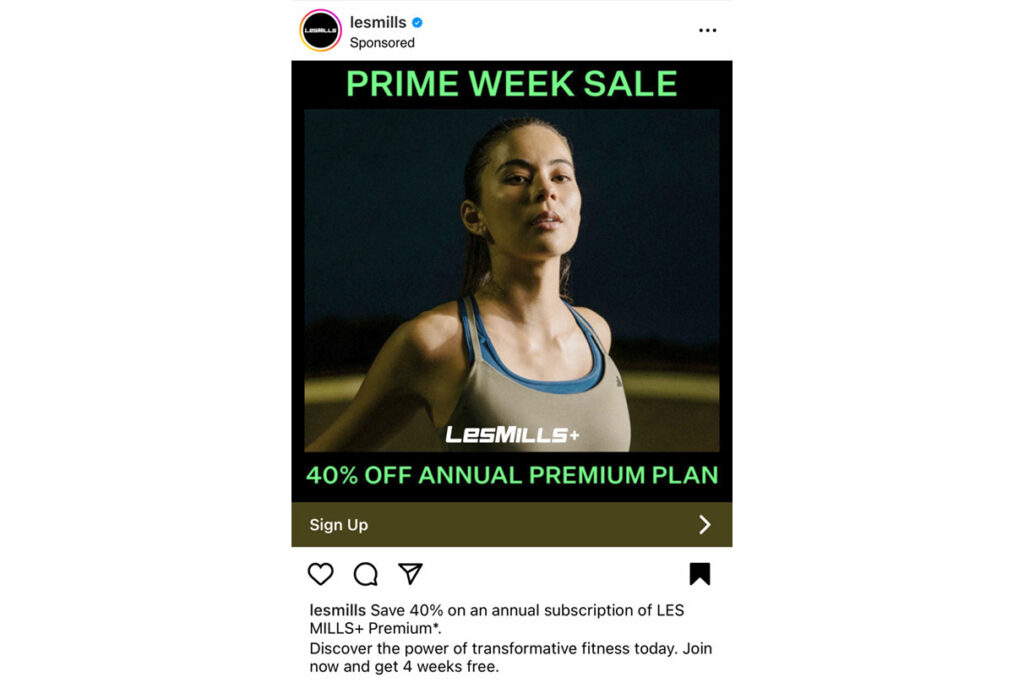 Iconic group fitness specialists, Les Mills, know how to create an effective fitness ad.
This Instagram ad captures the attention of those interested in subscribing to its LES MILLS+ streaming platform. It does this by piggy backing on one of Amazon's Prime Week promotions.
A powerful image and clear copy appeals to the desire of the target audience. While the offer provides a hook that inspires action.
13. Kayla Itsines – Sweat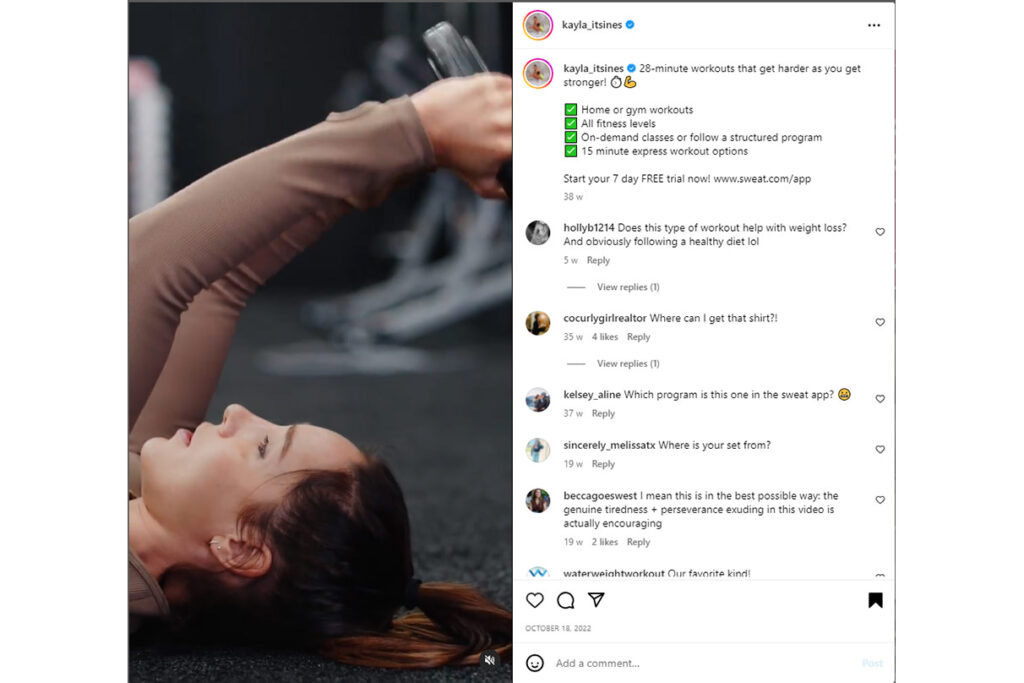 Australian Fitness influencer, Kayla Itsines, is Co-Founder and Head Trainer for fitness app Sweat. This Instagram fitness ad is a fantastic example of how to use an influencer platform to reach a wider audience.
A well-shot workout video attracts attention. While the ad copy explains the benefits of the platform and its workouts. The hook encourages take up of a free trial.
This is a simple ad that does a fantastic job of promoting the product without being too obvious.
14. Sweaty Betty – 'Wear The Damn Shorts'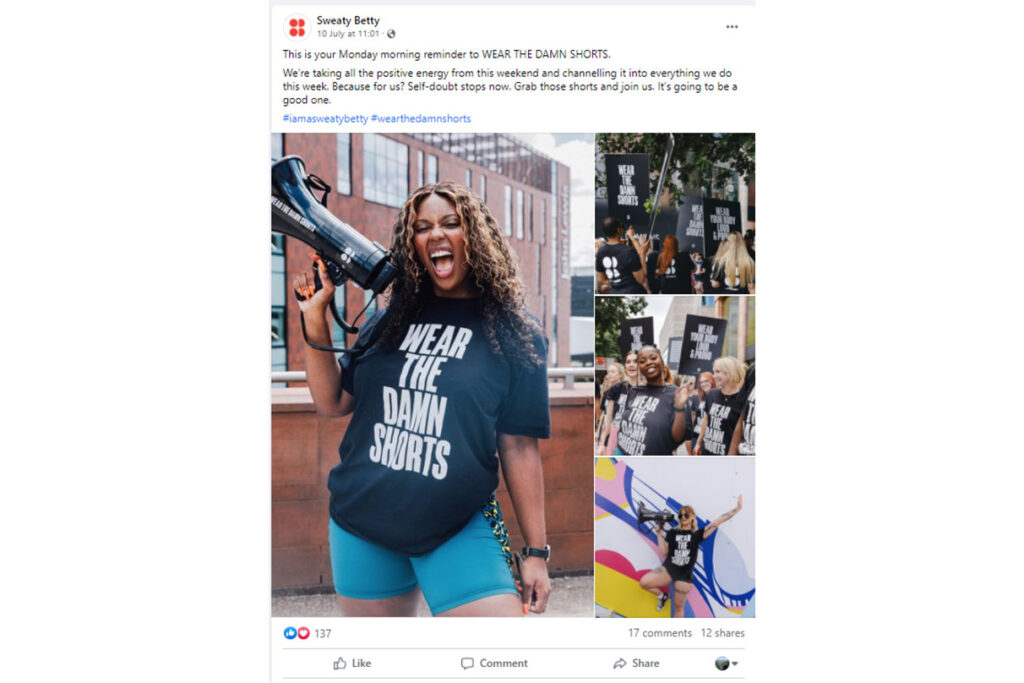 Sweaty Betty is a global activewear and lifestyle brand for women. The brand is all about empowering women of all shapes and sizes to be who they want to be.
This cross-channel fitness advertising campaign is from summer 2023. The brand fantastically uses a wide variety of ad channels. All with the aim to encourage women to invest (and wear) a pair of it's shorts.
The Facebook post above shows guerrilla advertising. Women took to the streets to attract attention with a clear message.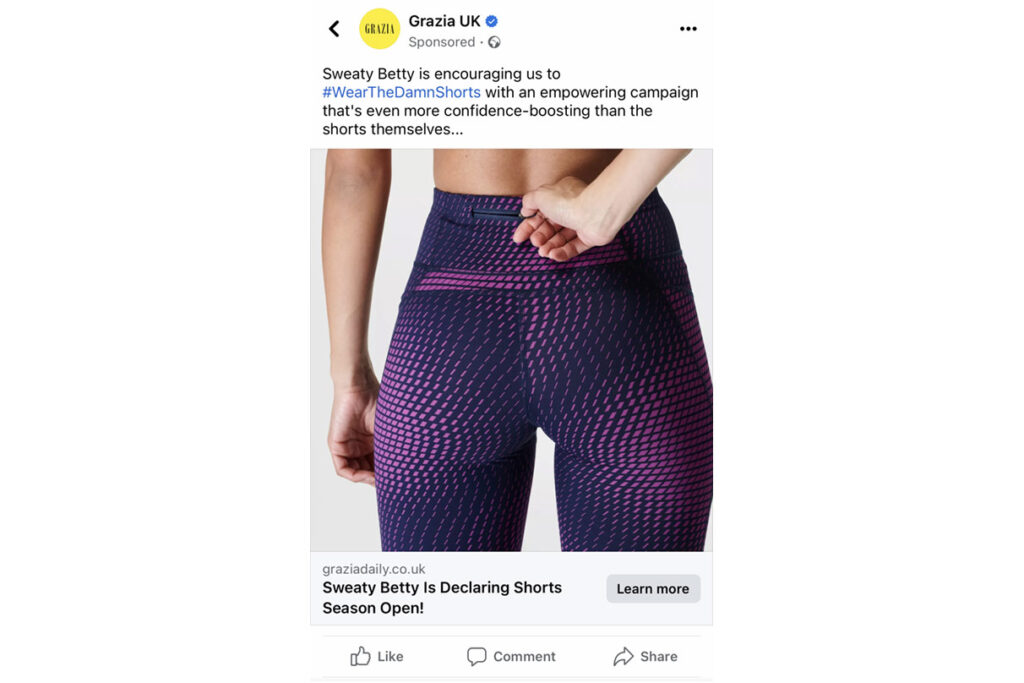 And for maximum impact, Sweaty Betty invested in advertorial and sponsored content with relevant publishers to reach more women.
15. Gymshark – 'Look Good, Lift Ugly'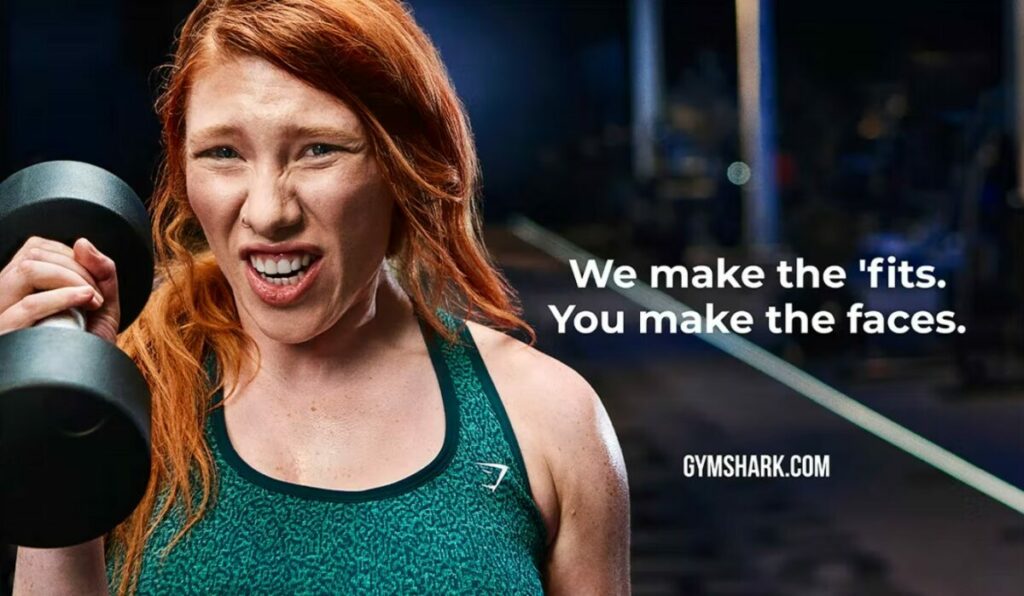 Source: Gymshark
In this fitness ad campaign, leading fitness wear brand targeted at gymgoers, Gymshark, challenges the perfect image gymgoers are sometimes guilty of portraying.
The brand typically creates advertising campaigns featuring 'perfectly posed and preened models'. Aware of this, the ad aims to attract attention by disrupting this norm.
It celebrates the hard work of gymgoers. And inspires those who don't fit the usual stereotype to consider the brand.
Advertising your fitness business
There you have it! 15 real-life examples to give you plenty of gym advertising ideas.
Now, let's look in more depth at the benefits of advertising and how to go about creating an impactful campaign.
How do you attract members to a gym?
Attracting new members is one of the most crucial tasks for any gym business. And it's usually a core objective of a successful gym marketing strategy.
How do you attract new members? There are dozens of tactics, each with their own pros and cons. You can start a member referral scheme. You can send emails to a list of potential new sign-ups. Or you can run an advertising campaign.
Targeted social media ads. Newspaper and magazine ads. Print leaflet drops. Outdoor signs and billboards. Investing in gym adverts helps you spread the word to reach a wider audience.
What are the benefits of gym advertising?
It's tempting to say that all businesses should advertise. But you do need to make sure that spending your budget on fitness ads is the right choice for your gym or fitness club business.
In general, you should consider paid advertising:
If advertising fits into your marketing budget and your gym can afford it
If advertising fits into your overall marketing strategy
If you want to reach an audience you can't reach through targeted email & SMS campaigns, member referral programmes, content marketing, and/or PR
If you want to bring in new members
Benefits of gym advertising include:
Reaching a wider audience
Raising brand awareness (get seen by new people, grow brand recognition)
Targeting highly specific audiences (especially through digital ads and niche publications)
Acquiring new members in an affordable way (particularly when you choose social platforms)
What makes an effective gym advertising campaign?
The success of your advertising will depend on your specific goals. Generally, effective advertising:
Is memorable
Resonates with the target audience with a personally meaningful message
Shows how you will fit into a prospect's life to make them happier, better, more productive, or more fulfilled
Showcases your business values
Is inextricably linked to your brand, so there's no opportunity to attribute it to a competitor
Marketing models, such as the AIDA model, can be used to help you create effective gym adverts that get your audience to act. AIDA stands for Attention/Attract, Interest, Desire, Action.
Here's how to use the AIDA model:
Attention / Attract – Quickly and directly grab your prospect's attention. Use powerful words and/or pictures to command attention
Interest – Make it easy for your prospect to quickly pick out the messages that are relevant to them. Bullets and subheadings are an effective way to draw attention to key points
Desire – Help your prospect understand how you can help them in a real way by appealing to their personal needs and wants
Conviction – Provide your prospect with hard data or social proof to back up any claims you are making
Action – Be very clear about what you want the prospect to do (for example, visit your website to sign up for a membership)
An alternative to the AIDA model is DRIP. This stands for Differentiate, Reinforce, Inform, Persuade.
How do you plan and run a gym advertising campaign?
How do I advertise my gym? This is a common question for gym owners and operators. Thankfully, planning and running a successful gym advertising campaign is not as tough as it sounds!
The effectiveness and success of your campaign will depend on many factors. Some are outside of your control. And most are down to you and how you plan and create each component of your ad campaign.
There are 8 key steps to cover when planning and running a campaign that will maximise your chances of success:
1. Establish clear goals
What do you want to achieve with your gym advertising campaign?
Generating leads. Promoting something new like a class, piece of equipment, or extended opening hours. Signing up new members. These are all common goals.
Just like when you are onboarding new gym members, make sure the goals you set are SMART (specific, measurable, achievable, realistic, and timely). This will help you focus the campaign and measure success.
2. Set your budget
Consider how much you can invest in your advertising campaign. As well as the cost of running the advert, budget for content and design creation.
3. Define your target audience
This is one of the first things you should decide. Your advertising campaign will be most successful when you target a specific audience rather than all perspective members.
You could target people in your local area at large. However, focusing on a specific group will make it easier to grab their attention. And appeal to their desires.
It will also make it easier to choose the right channel or channels for your ad.
4. Select the right channel
The right channel (or channels) for your gym advertising campaign should be driven by your audience, as well as your budget.
Traditional advertising channels can be impactful and memorable. Although they tend to be more expensive and it's harder to measure performance.
Examples of traditional advertising channels include:
Newspapers
Magazines
Billboards
Posters at bus stops, stations and on public transport
Perhaps your target audience reads certain publications or visits certain places. If so, traditional ads can be a great way to grab attention and make a lasting impression.
Digital advertising (also known as online advertising, internet advertising or web advertising) offers a cost-effective, data-driven way to reach your target audience.
There are 3 main types of digital ad:
Display ads usually combine images, video, text, and a URL. They are displayed on a network of online publisher websites or a specific website. These ads tend to:
Be visually appealing
Effective at generating brand awareness
Allow you to retarget people who've already visited your website without joining your gym
Search ads allow you to appear at the top of the search engine results for a particular keyword. Using a headline, display URL and description you can appeal to the searcher. Search ads tend to:
Boost traffic to your website for relevant keywords that your website doesn't show up for yet
Be very targeted as you can attract people looking to join a gym (or for a particular service you offer) in your specific area
Look very similar to organic results, which can increase the number of clicks received
Paid social ads appear when your target audience browses social media. Facebook and Instagram are the most popular channels for gyms and fitness clubs. TikTok is also becoming more mainstream, particularly if you are targeting a younger Gen Z audience.
Paid social ads tend to:
Grow brand awareness (and even loyalty)
Offer a low-cost way of advertising with high conversion rates
Provide in-depth analytics
Make it possible to reach very specific audiences
5. Create your message
Your gym advertising campaign should have a clear message. At this point it's about identifying how your target audience will benefit. And how what you are offering is different to similar offers on the market.
Put yourself in your target audience's position and ask yourself:
What problem do you solve for your prospect?
How does your offering benefit them?
What differentiates you from the competition?
The answers to these questions are your message and explain your value. Supercharge them by finding real-life examples of how you've helped others achieve the same.
6. Design attention-grabbing content
Once you've defined the message you need to get across it's time to create ad content that captures the attention of your target audience.
Typically, your fitness ads will be made up of two components: an image or video and copy.
Select an appealing image or video
Today's culture is very visual. So, choosing the right image or video for your gym advert is more important than ever.
People engage best with other people, so keep that in mind. Think about the emotions evoked by an image to make sure they match the message you want to convey. And consider:
Quality – the quality should reflect the quality of your gym
Memorability – an eye-catching, distinct image or video will leave a lasting impression on your prospective members
Engaging – evoke emotions or memories to connect with your audience, choose an image or video with your exact target group in mind
You could have your own images or videos taken within your club (get permission of anyone featured before you make them part of your ad). If you do, consider investing in a professional photographer or videographer.
And another option is stock imagery or video, Shutterstock, iStock, and Adobe Stock are great places to start if you have a little budget. Or check out Unsplash for free options. Make sure you have the right licenses or permissions to use the image or video in the type of ad you are creating. And avoid choosing images or videos your competitors have used.
Craft clear copy
Advertising copy is the wording on your advert (or that sits alongside your ad when using paid social advertising). It should be clear, concise, and compelling.
It also needs to do two things. First, it needs to build on your message. Make sure the copy lines up with your message, and your imagery.
Think also about tone of voice and your brand. Perhaps you're all about having a bit of fun, in which case inject a bit of humour. Or maybe you're a serious place to train, in which case take a more formal, informative tone.
Second, it needs to tell the reader what to do next. Tell potential members where to find you, how to join, how to take advantage of any offers. This is called the "call-to-action".
Effective call-to-actions include:
Join us now
Sign up today
Try us for a week
Make the change today
Be part of it
Enjoy a free session on us
Book your class now
7. Launch your campaign
Now you've got all the ingredients you need for your gym advertising campaign. So, it's time to launch it across your chosen channels (or on your chosen channel).
8. Measure success (and test where you can)
Once your campaign has launched, you can start measuring success against your goal.
For traditional advertising campaigns, this is typically done when the campaign ends. Key performance indicators (KPIs) to look at can include:
Branded organic search traffic (i.e., the name of your business)
Use of a specific promo code associated with the ad
Social media followers
Direct traffic to your website
For digital advertising you can usually tweak and test ads (as well as targeting) as your campaign runs to see what works best. Common KPIs to monitor include:
Cost per click (CPC) – how much you pay for each click on your ads
Click-through rate (CTR) – the percentage of those who click through having seen your ad
Conversion rate – the percentage of people who complete the desired action from your campaign (e.g., have joined up for a membership) having clicked through
The most important thing to consider is return on investment (ROI).
Your investment is the amount you spend on a campaign. That includes the value of the time you put in, the cost of any creative work, and any publishing costs and any management time.
The return is the amount of money you make from memberships sold (or another offer purchased, such as PT sessions) because of your adverts.
If you have a positive return on investment, you're making more money than you're spending. Congrats! You've planned and run a successful campaign
What are the benefits of working with an advertising agency?
While you may want to keep costs down and run your gym advertising campaign in-house, it can be beneficial to work with a specialist agency.
Advertising and marketing agencies will have the connections and resources to make your campaign successful and cost-efficient. Marketing agencies who specialise in fitness club and gym advertising include Creative Fitness Marketing (CFM) and Fitness Marketing Agency (FMA).
Remember the follow up too!
Working with an agency partner will help you free up time. So, you can focus on the leads and new members your ads attract.
The right gym marketing software will help you reach leads with an automated outreach email or SMS campaign. And send timely messages to your new members as part of an automated, personalised new gym member onboarding journey.
The wrap up…
Having a great idea for a fitness ad is just the beginning. Put in the work to ensure the advert you create is part of your wider gym strategy. And you'll make sure it delivers that all-important return on investment.
Get the basics right. Identify a target audience. Nail the messaging. Choose the right channel or channels. Create an impactful ad. Measure success. Keep testing and refining.
Make sure you're set up to make the most of the results your winning gym advertising ideas attract with the right gym management software.
Get the fuel to go further. Request a demo to see the value that Xplor Gym can bring to your fitness business.
Article by Xplor Gym
First published: 24 July 2023
Last updated: 30 October 2023