The cost of living has risen over the last couple of years, and this has impacted gym memberships. Find out whether members are cancelling due to cost and financial reasons. Plus, understand how gym owners and operators have been impacted.
The rising cost of living has been a hot topic of conversation since late-2021. And most have been impacted by increased costs of some sort.
Some members are choosing to cancel (or change) their gym membership due to the impact of high costs on personal finances.
As a gym owner or operator, it's important to understand the true impact of cost of living on your members and react appropriately. Yet, amongst rising costs there appear to be positives for the fitness industry.
The rising cost of living
Since late-2021, the cost of living has increased rapidly in the UK and Ireland. Consumer goods and services prices (inflation) increased at the fastest rate in 4 decades in the year to October 2022. Inflation peaked at 11.1%. And since this point it has eased.
As of July 2023, the annual inflation rate was 6.4%. That means consumer prices were 6.4% higher than prices in July 2022.
Public opinion research conducted by the Office for National Statistics between 26 July to 6 August 2023, found that more than two-thirds of adults were spending less on non-essentials because of the rising cost of living.
Does this mean consumers are cutting spend on gym memberships?
How is cost of living impacting gym memberships?
YouGov research in September 2022 found that 8% of Brits said they'd been forced to make cutbacks to spend on gym memberships due to the cost of living. And of those forced to make cutbacks:
60% had stopped spending money on this altogether
20% had reduced the amount spent by switching to a cheaper alternative
7% had switched to a pay-as-you-go version
Are members cancelling due to cost?
Xplor's Winning The War On Attrition research* found that 4.4% of those who cancelled a membership in 2022 and early-2023 said this was for cost or financial reasons.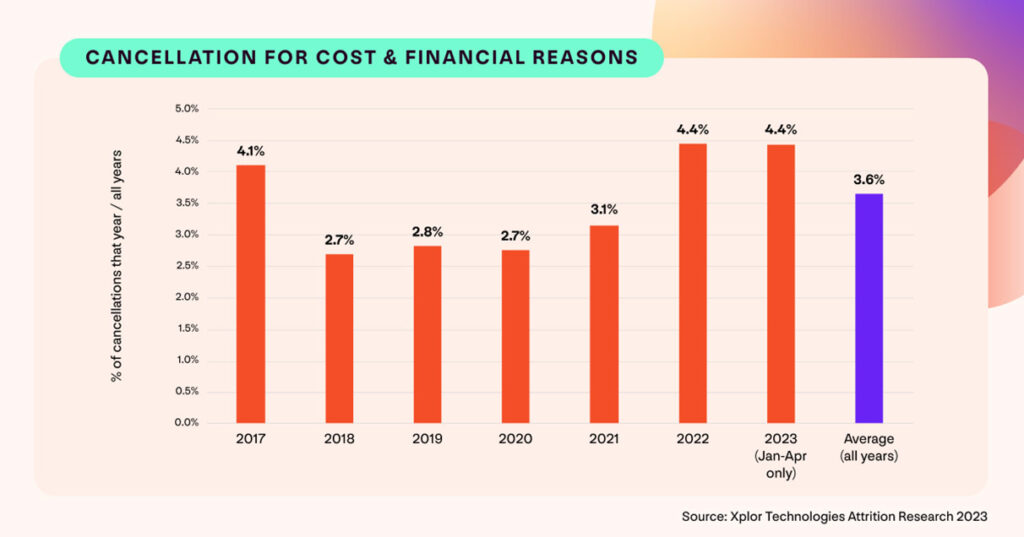 This is a little lower than YouGov's research suggests. Yet, it's higher than the overall average in previous years.
2022 and early-2023 show the highest cancellations for cost and financial reasons since 2017. And 2017 was the year that saw lower than usual consumer spending due to stagnant wages and increased inflation following the 2016 Brexit vote.
Our research also found that 52% of former members quit the gym quietly. These members either:
Failed to share a leaving reason when cancelling their gym membership
Cancelled their payment directly with their bank
Or experienced a payment failure
It's likely that some of these quiet quitters left the gym as they were struggling with high living costs. Finances can be a tough topic. So, some will prefer not to tell you that they are struggling.
To get a true understanding of the extent of cancellations due to cost, you need to create the right environment to encourage members to share this with you:
Build a culture where gym member feedback is valued and members feel they can be honest with you
Give members more control (consider giving them access to freeze or cancel digitally through your gym membership software without feeling confronted or uncomfortable having to speak to someone)
Take an effective approach to managing membership payments to reduce failures
Impact of higher costs on gyms & fitness clubs
With rising costs for consumers, come rising costs for businesses too. Many clubs have had to adapt gym pricing strategies to offer new membership options. And to increase prices.
The 2023 edition of the State of The UK Fitness Industry Report from Leisure DB found that clubs have increased prices (the average cost of a gym membership in the UK is now £44.92 – up from £42.99 in 2022).
The report suggests that higher costs have made higher fees more accepted, without impacting member numbers. The market penetration rate (percentage of people in the UK with a gym membership) is reported to be 15.1%, up from 14.6% in 2022.
Low-cost brands (traditionally charging less than £25 a month) are now moving into the mid-market. And mid-market brands are moving into the premium category. While there's a new super-premium category emerging.
Cut attrition due to cost (and other reasons)
If you are serious about growing your business, you need to effectively tackle attrition.
Understand the state of attrition in the UK fitness industry right now and get practical takeaways to help you retain more members coming back for longer. Claim your free copy of the Winning The War On Attrition report.
The wrap up…
Signs are positive that the rise in prices and inflation is slowing. Yet, costs are still high, and wages have not yet caught up. That's impacting consumer spending power.
Some members have been forced to quit the gym due to living costs. Yet, many have chosen to continue investing in a gym membership, understanding the value it brings to their fitness and wellbeing.
Gyms and fitness clubs have also been impacted by rising prices. Many have been forced to increase their membership prices (and offer new types of memberships to cater for different budgets). Overall, this has pushed up market value and has not impacted market penetration.
Get more insights to help you tackle attrition. Claim your free copy of the Winning The War On Attrition report.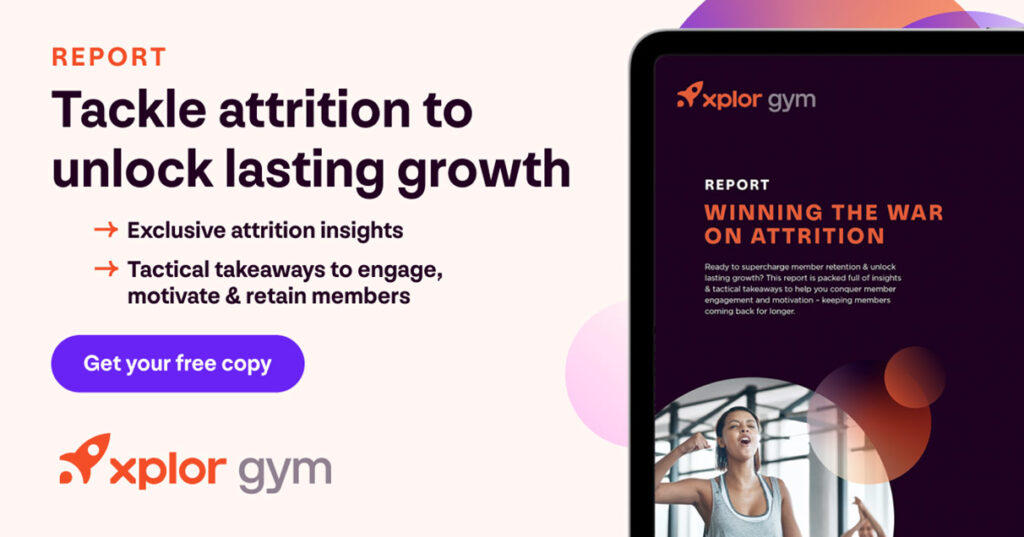 * About the research:
The attrition insights featured in this article and the Winning The War On Attrition report are based on Xplor data from 714,674 gym, health club and leisure members paying by Direct Debit in the UK & Ireland.
As well as current members, it includes data on members who held a membership that's been cancelled between January 2017 and April 2023.
The data was collected in May 2023.
Article by Xplor Gym
First published: 02 October 2023
Last updated: 30 October 2023