Christmas gym promotion ideas: 10 festive gym email templates
Finish the year strong with this guide, featuring Christmas gym promotion ideas to boost business. Plus, get 10 ready-to-use festive gym email marketing templates.
Download Christmas Promotion guide
Christmas gym promotions and email marketing are made easy with this guide. Get your free copy today.
10 email marketing templates for your gym this festive season
December is a busy time. Christmas parties. Gift shopping. Entertaining family & friends. The list goes on!
As a gym owner and operator you need to cut through this noise. No sweat! This guide is packed full of Christmas gym promotion ideas to help you cut through and finish 2023 strong.
You'll get the emails needed to increase new member sign ups and keep existing members engaged during this busy time.
The 10 effective festive gym email marketing templates in this guide can be copied and pasted to use straight away. Or adapted to suit your gym. Get templates to:
Make the most of Black Friday
Attract new member sign ups (yes, even in December!)
Engage and retain existing members
Download the guide now and start using the email templates straight away.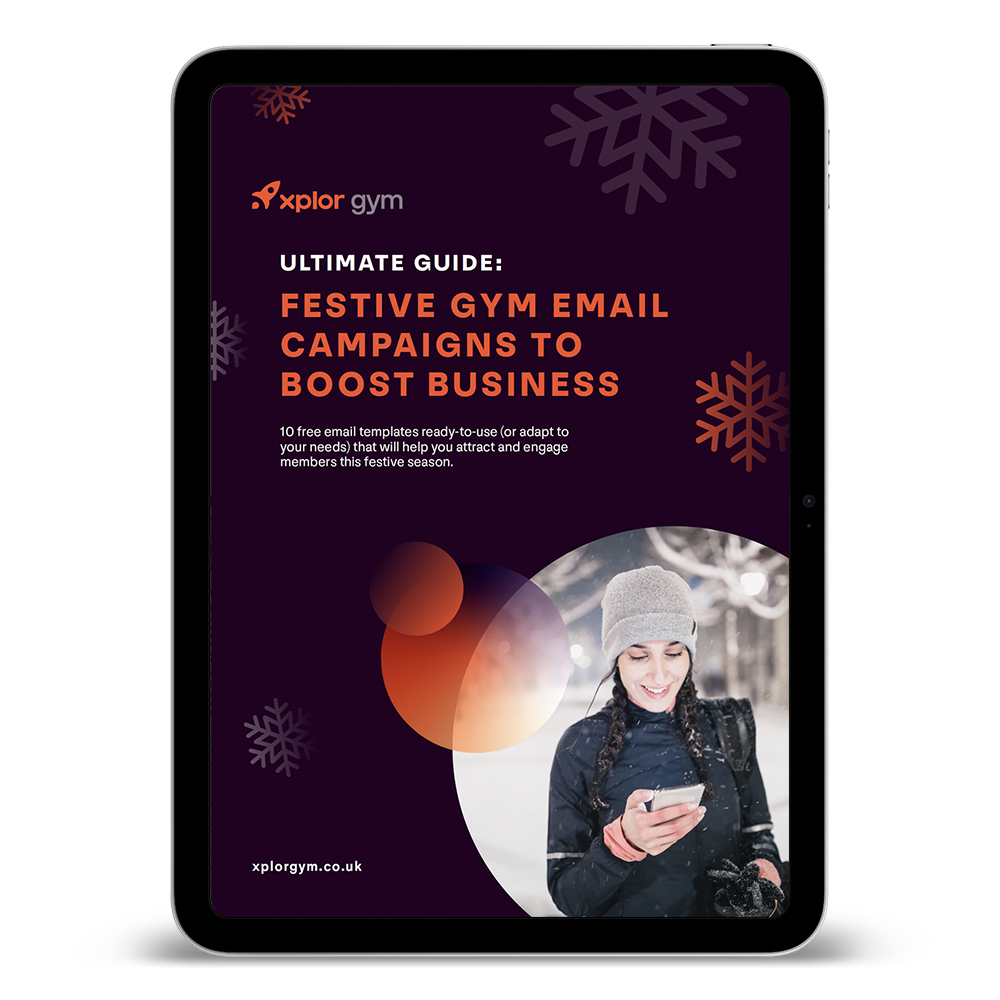 Start with email marketing
The right marketing approach can help you capture attention. And persuade new and existing members to make spending time with you a priority in December and the new year.
Email marketing is the ideal place to start. Why? It gives you direct access to your audience, who've chosen to hear from you, using a channel that you own. You're in control.
How do you make a successful festive gym email marketing campaign?
Start by downloading this Ultimate Guide To Festive Campaigns To Boost Business where you'll get all the Christmas gym promotion ideas and email templates you need.
And make sure you keep these email marketing best practices in mind:
Set a clear goal – knowing what you want to achieve with each email is essential
Target specific groups – this will help you make your message more relevant
Use personalisation – simple customisations (such as adding a member's name to a subject line) can increase open rates and even result in higher campaign revenue
Adopt the right tone – remember to be relatable and write as though you are speaking with the member you're emailing
Send at the best time – sending your email campaign out in the morning can improve chances of it being opened and read
Boost your business this festive season with your 10 free festive gym email templates – ready to use and adapt!