Wellbeing presents a momentous opportunity for fitness industry leaders to transform and achieve substantial growth. How can you tap into this opportunity? It starts with your wellbeing as a leader.
"What is wellbeing? We hear about it all the time and actually what it means to me will be very different from what it means to you. And very different to what it means for your members." – Emma Hossack, ICF
In our Wellbeing Mindset webinar, which took place on 2 May 2023, we had the privilege of running a very special session with the wonderful team from We Talk Wellbeing. Read on for our key takeaways.
Meet our hosts
Dr Glenda Rivoallan and Emma Hossack from We Talk Wellbeing led an inspiring session for gym and fitness club owners and operators which explored the wellbeing opportunity and how fitness leaders can tap into it.
Dr Glenda Rivoallan, DBA
Founder of We Talk Wellbeing
Glenda is a serial award-winning health and fitness industry entrepreneur. As a professional wellbeing strategist, leader, and WRAW Master Resilience Practitioner, Glenda brings over 28 years of experience. Following the successful acquisition of her health club, Club Soulgenic, by Anytime Fitness in 2020, Glenda continues to develop in her journey of integrating wellness into the fitness industry.
Emma Hossack, ICF
Director of We Talk Wellbeing
Emma is a professional coach, NLP practitioner and master WRAW Resilience Practitioner. With extensive experience working with adults, children, teens and teams, Emma's work centres around resilience and wellbeing – she believes it's the foundation to our happiness.
What is wellbeing?
Wellbeing will mean something different for each individual. Wellbeing is multi-dimensional. And physical health is one aspect of wellbeing. The We Talk Wellbeing team shared the Wellbeing Wheel from the University of New Hampshire which shows all the aspects that make up wellbeing.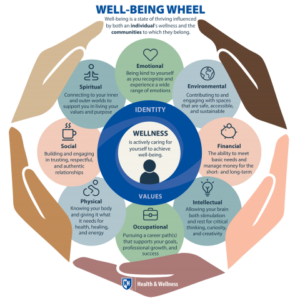 Source: The University of New Hampshire
Wellbeing is a state of thriving – as an individual and as part of a community. Physical activity and wellness is a small part of what it takes for people to thrive. There's the opportunity for gyms and fitness clubs to extend beyond the physical to social, spiritual, emotional, environment, financial wellness and more.
Wellness in all these areas is how you achieve wellbeing. Dr Glenda Rivoallan challenged leaders to really know your customers better than ever.
"We often make assumptions that we know if our customer is thriving or not, but when you look at the [University of New Hampshire] diagram, it really becomes clear that they may be physically fit but that doesn't mean they have full holistic wellbeing." – Dr Glenda Rivoallan, DBA
Gaining a deeper understanding of customer wellbeing starts with understanding your own wellbeing. We all need to take responsibility to understand what wellbeing means if we want to see the amazing results for physical and mental health.
Wellbeing starts with you as a fitness leader
Gym owners and operators – fitness leaders – face many pressures. A competitive marketplace. Rising costs. Broad roles. Rising workloads. Sales targets. Staff recruitment and retention. The list goes on.
The We Talk Wellbeing team challenged leaders to put these pressures to the side. Pressures will always be there in some shape or form. So, you need to shift focus to what you can control and influence to achieve greater wellbeing.
"What we're asking you to do today is to look in the mirror and consider what you can do, what you can take control of, what you can influence to help you unlock more potential and understand the part that you play in driving your businesses towards the success you want." – Dr Glenda Rivoallan, DBA
The average person spends 81,396 hours at work in their lifetime – that's the equivalent to 9 years. Gallup's State of the Global Workplace 2022 Report found that 60% of the workforce are emotionally detached at work and 19% are miserable.
Unrealistic workloads, poor communication and unfair treatment at work are leading to burnout. Most of these factors are down to leaders.
If a large proportion of your team are disengaged and not thriving, that will have an impact on your members. Members want to go into a thriving atmosphere, where everyone is happy and feeling positive.
If you can improve your wellbeing, you will stand greater chance of improving your team's wellbeing. And that will have a positive impact on your member experience. Which will in turn drive retention and growth.
As a leader you need to be aware of and address stress and negative thought patterns, so you can start to see things differently.
"When we're aware we can make changes. But the truth is that we are the biggest asset to our business and if we are not well, how sustainable will we be in creating a business that thrives, and in helping our colleagues thrive, and our members thrive too." – Emma Hossack, ICF
Measuring workforce wellbeing
"I want to stress to everybody that we are more resilient as a workforce in the fitness industry than we've ever been before, because of that shared experience [the COVID-19 pandemic].

The one thing I would say is that we don't often use it as a point of reference to remind us of the new skills that we learnt. The skills of consistency and doing things consistently well every day. Being disciplined despite the challenges and also being able to positively frame even in spite of very difficult conditions." – Dr Glenda Rivoallan, DBA
Think about the skills you've picked up over the past few years and harness these to become more resilient. Then consider your teams and how resilient they are. Aim to help them become more resilient – outcome oriented, energised, creative and innovative, collaborative, bold, confident, open to change, and purposeful.
Often this can mean looking beyond the surface of what employees are telling you to detect what's happening deep down. Look for:
Changes in mood and interactions with colleagues
Changes in work output, motivation levels, and focus
Challenges in making decisions, getting organised and finding solutions to problems
Tired, anxious, or withdrawn behaviour, and a loss of passion and interest for their role
Changes in behaviour – eating habits, appetite, smoking and drinking
The We Talk Wellbeing team shared the performance pressure curve as a useful tool for assessing the workplace wellbeing of you and your team.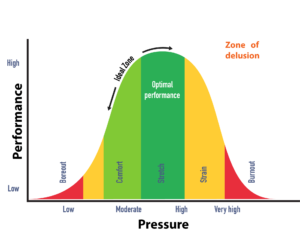 Source: Delphis
The curve helps measure the impact of pressure on performance. Employees who are stretched but not strained will perform better than those who are stressed and heading towards burn out. It also highlights the problem of bore out which can have just as big of an impact on your bottom line as burnout with employees lacking motivation and becoming increasingly disengaged.
"People are the absolute critical investment that you now must make to raise the dial and make sure that you hit that flow state… If the lights are on and no one is home, we have a big, big problem. And there are three things that you can do to really help your people be ready for this opportunity. That is to give clear communication, make sure you deal with unfair or unrealistic workloads, and ensure that load is spread evenly because we know there's no I in team." – Dr Glenda Rivoallan, DBA
Becoming a wellbeing solution for members
Once you as a fitness leader have started to take responsibility for your own wellbeing and have empowered your team members to do the same. You can empower members to become powerful in their own wellbeing too.
If you are to tap into the wellbeing opportunity, you need to effectively engage new members beginning their journey with you. And that means disregarding old assumptions. Really dig deeper to understand why they are joining with a completely open mind.
And take a step back and really look at why members fail to stick to their physical activity routine and end up cancelling their memberships. Again, it's easy to make assumptions, the key is to be more inquisitive and dig deeper to get to the route of reasons for attrition. Perform exit interviews with members. Do these after a period of cooling off and without trying to win them back to encourage honesty.
Around 15% of the UK population hold a gym membership. By tapping into the wellbeing opportunity, you can attract new subsets of the population and increase market penetration. To do that you need to show people that their 'stress bucket' can be emptied through physical activity.
"The challenge is we have to get people in the building first and we have to tackle their perceptions that everything that they are putting in that [stress] bucket can be alleviated by our solution. And I do want to stress, excuse the pun, that the stress pandemic, despite how horrendous this is, is a massive opportunity for us to raise the dial on the 15% because the people, the 85% that are not using are clubs, have got all of the same stressors that you and I have." – Dr Glenda Rivoallan, DBA
It's time to tap into the wellbeing opportunity
The time has come to tap into the opportunity that a shift to becoming a wellbeing solution presents for the fitness industry. That means first focusing on your wellbeing as a leader, then focusing on the wellbeing and resiliency of your teams, so members enter a positive environment.
To close the session Dr Glenda Rivoallan gave her top 7 wellbeing predictions for the fitness sector that operators can focus in on:
Transformation of instructor certification programmes
Integration of digital wellbeing solutions into gym management software and membership bundles – add-ons that members can choose
The emergence of on-site wellbeing coaches
Greater product segmentation of member communities for key groups (e.g., older adults, menopause, corporate wellness)
The rise of clubs who cater for mind and body
Stronger collaboration reducing the gap between medical and functional
A need for up-skilling and prioritisation of wellbeing in the workforce
Learn more about We Talk Wellbeing.
Article by Xplor Gym
First published: 15 May 2023
Last updated: 31 October 2023